TENNIS TALK with Faith Scrivo and Brianna Turano
Hang on for a minute...we're trying to find some more stories you might like.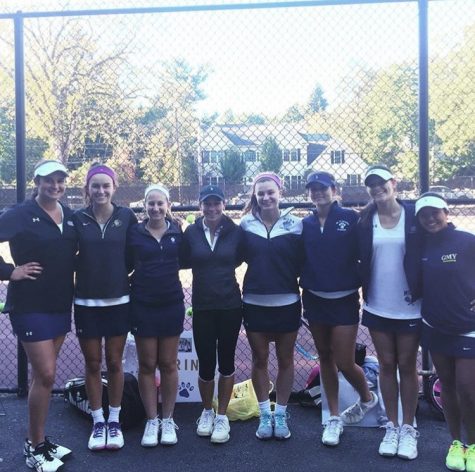 "

"Tiring. Rewarding. Unforgettable.""

"Tiring. Rewarding. Unforgettable." said Faith Scrivo, first singles player and Captain on the Varsity Tennis team, when asked how she would describe their past season. Seven out of the eight girls on Varsity will be graduating this coming Spring, and they have worked tirelessly to make their last season count. When I asked her, "Looking back, do you have any regrets?" Faith replied, "My only regret is that the season didn't last longer." She is extremely passionate about the sport and since this was her last season playing Tennis in high school, it was a very hard good-bye for her. Faith said, "I learned the importance of leadership being this year's varsity captain. I was able to pump my teammates up and make them better. I'm proud of all of the hard work we put in this season, and I'm especially proud of what we got out of it." For varsity, their 2016 fall season was filled with seven meritorious wins and thirteen difficult losses. But, their team spirit and love for the game pushed them through all of their obstacles and was the reason for all of their triumphs. To conclude my interview with Faith, I asked her, "What are you going to miss about playing Mount Tennis next year?" Faith answered, "I'm going to miss the long bus rides, and practices with my teammates. Nothing can compare to the bonds we made this season, and I wish them all luck in the future."

Everyone on the team can agree that without the Coach, Brianna Turano, nothing that they accomplished this season would have been possible. I asked Brianna, "How was your first season being a coach, instead of a player, for Mount's Tennis team?" She replied, "I really enjoyed my first year coaching at the Mount. I had a great group of girls and that made it very enjoyable. I'm proud of the effort they put in during our practices and matches. The girls exceeded my expectations."

"

"…The girls exceeded my expectations." "

It wasn't long ago that Turano was playing Mount tennis herself. As an alum, she was able to relate her experiences as a student and a tennis player at the Mount, to the current students, which ultimately made her a better coach. Lastly, I asked Turano, "What is the most important thing that you learned being the 2016 varsity tennis coach?" She answered, "I learned how to apply what worked for me as an athlete to the team, and how to train them in a relatable way."

Mount Saint Dominic's 2016 Varsity Tennis Team had a season filled with both defeat and victory. But, as each player graduates and continues to progress in their future endeavors, they will remember the laughs they shared and the memories they made. Congratulations to the Seniors on the team, and their Coach, on a great season! You have made the Mount community very proud.