The Human Behind Humans of New York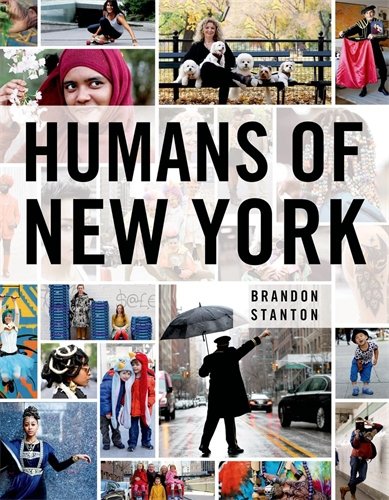 Amazon
It all started in 2010 when Brandon Stanton lost his job as a Chicago bond trader and decided to take a risk rather than muster up his resume and begin the search for a new job. In an interview with the Huffington Post Stanton explained how he put his financial worries to bed for a while.
"I decided to have an ago at something [he] truly enjoyed," Stanton said.
Early that year Stanton bought his first DSLR camera and  told his mom he was going to be a photographer touring American cities. Stanton snapped pictures of everything he found interesting in cities like New Orleans, Pittsburgh, and Philadelphia. In the same interview, he explained how his pictures were not exceptional but rather promising. However, it was the day he decided to start taking pictures of people that Stanton said defined the rest of his career. Stanton's travels ended him up in the "city that never sleeps" in August of 2010 where he launched what would become known as the world-renowned Humans of New York (HONY).
What you may not know is the HONY we know today was once just a simple Facebook photo album named after Stanton's first impression of the city. With just six-months worth of photography experience, Stanton returned to Chicago, packed his bags, and moved to New York City. As expected, the first year was tough for Stanton.
"Six months in—I was broke, I'd taken thousands of portraits, I didn't know anyone in New York, nobody was paying attention…I'd been working on HONY every day, non-stop for a year" he revealed.
It was not until the day he moved his pictures from his Facebook album to an official Facebook page that he garnered some attention. As his project slowly began to gain a following, Stanton realized that the quality of his project was not coming from the bustling streets of New York City pictured behind his subjects, but instead from his subjects themselves. Realizing this, Stanton shifted his focus on to his subject's stories and took the streets to interview people, publishing their short personal narratives alongside a portrait of them. As if this project was not hard enough for Stanton, he now made his "job" even harder as he had to learn how to walk up to strangers and ask them about their personal lives and if he could take their picture. Through various trial methods, Stanton found that being calm and direct with his subjects worked best.
"I have no shame and no pride when it comes to approaching people on the street," he explained.
He relied, and still relies, mostly on positive energy to make a connection with his subjects. He also does his best to come off as a regular guy, wearing plain clothes and acting his folksy, quirky self. It is this method that has allowed him to far surpass his imitators as he is able to push through the first layer of an interview, get past the broad statements, and thus has been able to transform his once personal photography project into a verified Instagram account, numerous books, and a Facebook series.
Although HONY is no longer Stanton's personal photography project, his goal has stayed the same: passion over profit.
"I've said publicly that I don't want to 'cash out' or 'monetize' HONY. I like to say it publicly because I want my audience to keep me on mission," he said.
Staying true to his word, Stanton has turned down almost every corporate offer (except Facebook of course). Despite the fact that almost 700,000 people have liked the HONY Facebook page, his book of photography went no. 2 on Amazon six months before its publication date, and HONY has reached cities far beyond New York and even the U.S., Stanton remains true to his mission; he continues to give New York's (and now the world's) inhabitants a voice to help recognize our many similarities and, most importantly, celebrate our differences. By doing this HONY's posts and stories have been able to bring joy into many parts of the world, especially into the pediatrics department of Memorial Sloan Kettering Cancer Center.
Along his journey, Stanton has gathered posts which, according to the HONY website, "focus on specific populations, examining their experiences and the challenges that they face" and transformed them into their own series. One of the most heartbreaking yet inspiring series is Humans of New York: Pediatric Cancer. This series consists of stories compiled from the Pediatrics Department of Memorial Sloan Kettering Cancer Center that illustrates the experiences of the pediatric patients, their parents, and doctors at the center. Stanton worked closely with Nina Pickett, the administrator of Memorial Sloan Kettering's Department of Pediatrics in order to find families to interview.
"It was extraordinarily serendipitous…he had no touch with the pediatric cancer community, no knowledge of anyone affiliated, but he just had in his heart that there was so much injustice around the idea that a child would get cancer," Pickett said in an interview with the TODAY show.
After meeting and interviewing patients, parents, and doctors at the center, Stanton decided to start a fund through genorsity.com in honor of Dr. Richard O'Reilly, the Chairman of Pediatrics at Memorial Sloan Kettering Cancer Center, who has recently stepped down after spending over 30 years trying to save every single child. Through his series and campaign, Stanton was able to help raise $3,876,802. Two-thirds of that money was allotted to pediatric cancer research at Memorial Sloan Kettering while the remain third was used to support the families of patients. Aside from the money that was raised Pickett also is grateful for Stanton as he also has given a voice to the pediatric cancer community. Dr. O'Reilly also expressed his thanks to Stanton writing a letter on the center's website:
"The stories on Humans of New York—of our patients, families, staff, nurses, and doctors—shared our collective triumphs and the obstacles we overcome each day. I couldn't have imagined the transformative power of seeing these stories brought to life, or the impact of the HONY community's extraordinary passion. Cancer is never easy, but with help like yours, there is hope. From all of us at MSK, thank you."
Although this series is completed, HONY's work is never done. Feel free to visit the donation website or the HONY website to read other series and get involved.
Please share our stories: