Trendy Music Festival Gives New Artists Welcome Exposure
Hang on for a minute...we're trying to find some more stories you might like.
Governors Ball, more commonly known as Gov Ball, is a three-day music festival on Randall's Island in New York City. Many popular performers grace the stage, but new artists also receive some desirable exposure through this event, with five different stages featuring live acts. Each stage has a unique name: American Eagle Stage, NYC Stage, Bacardi Stage, Honda Stage, and Gov Ball Stage. While the crowd walks around taking in the scenery and enjoying performances, new and upcoming artists have a chance to gain more fans.
At the 2018 event, rising new artist Quinn XCII was given the opportunity to perform at the Bacardi stage early in the day. Once his performance began, the initially small crowd began to grow bigger and bigger. He played some of his most popular songs, including Straightjacket, Always Been You, and FFYL. His positivity and love for what he was doing spread through the crowd and had everyone dancing. He even brought out one of his good friends, Chelsea Cutler, on stage and sang Flare Guns with her.
Quinn XCII goes against the norm and creates music from his heart, relying on a hybrid of genres including  hip hop, electronic, pop, and reggae. His career began to flourish in 2014, but Gov Ball gave him an opportunity to grow and gain more followers, which he certainly did. His Instagram now has 97.2k followers and that number will continue to grow. From Detroit Michigan, Quinn XCII gets to do what he loves, growing as an artist…with a little help from Gov Ball.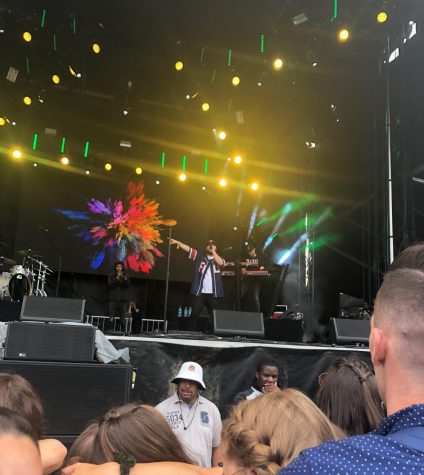 Over 150,000 people attend this trendy event. Most dress in boho style, attention-drawing outfits. The island also has many unique art pieces, from paintings to balloon trees, for taking pictures and admiring. Only the most trendy and popular food trucks and stands are brought to this event. Food trucks such as WOWfulls, John's Juice, and Doughnuttery all cater at Gov Ball.