The Cookie Connect Satisfies All Your Holiday Cookie Cravings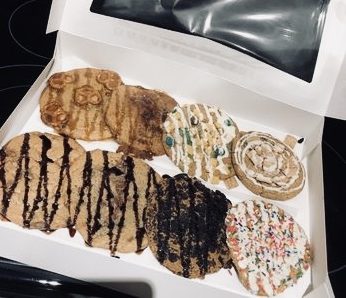 Hang on for a minute...we're trying to find some more stories you might like.
'Tis the season of cookies! This weekend I spoiled myself and went to The Cookie Connect in Bloomfield. Located at 405 W. Passaic Avenue, this hidden gem can only fit 10 people maximum. Upon walking in, I noticed two things: the first was the large, neon blue sign on the wall reading, "Life's too short, eat a cookie." (Adorable! But also perfectly fitting for the mood of the shop.); the second was the workers' attire of a black t-shirt donning the phrase "bakedaf." I found this hilarious and considered asking if they were hiring because I want that shirt.
The cookies are 6″ wide and DELICIOUS!!! There are so many different, unique cookies to choose from, ensuring they appeal to everyone. Their website even claims the "menu has a cookie on it for everyone." I sampled a total of six cookies: Cookies and Cream, Salted Caramel Pretzel, PB&J, Birthday Cake, Cinnamon Roll , and  New York City Cheesecake. Of the six, my top three favorite cookies are Cookies and Cream,  Salted Caramel Pretzel, and Cinnamon Roll. The Cookies and Cream cookie had vanilla frosting topped with Oreos. The Salted Caramel Pretzel cookie had drizzled caramel and mini pretzels on top. The Cinnamon Roll cookie was topped with mini cinnamon bites. They tasted even better with a glass of milk.
The food coma that followed my devouring of the cookies was worth it. The cookies are baked fresh daily and the standard menu includes 12 cookies. There are additional seasonal cookies on day-to-day basis.
If you are looking for a late-night pick-me-up after a marathon Christmas shopping outing, or need a gift for your friend with a sweet tooth, or simply don't want to show up at Christmas Eve dinner empty handed, The Cookie Connect has you covered. The retailer sells cookies, gift cards, and merchandise. Everyone needs to spoil themselves sometimes, especially this time of year.
The Cookie Connect
405 W. Passaic Avenue
Bloomfield, NJ 07109
(201) 822-5339