How To Survive Christmas as a Vegan
Hang on for a minute...we're trying to find some more stories you might like.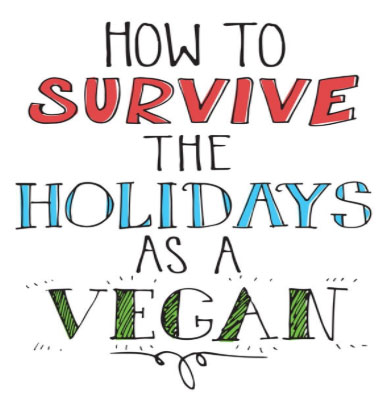 Maybe you're newly vegan and aren't sure what to bring to family dinner. Maybe you've decided on temporary veganism to save a few calories on Christmas. Maybe you're just interested in what it means to be vegan. Regardless of which description sounds most like you, here are my top 3 tips on how to survive Christmas as a vegan!
1: DON'T BE AFRAID TO TRY NEW FOODS! You're already brave enough to try veganism, so you shouldn't stop there. There are millions of ways to make a variety of meals out of fruits and vegetables. Just because you have never had it, doesn't mean you can't try it. You might even love it!
2: YOU DON'T JUST HAVE TO EAT SALAD! It's a common thought that when you are vegan all you can eat is salad, but that is false. There are so many other options including seitan roast, mushroom wellington, and butternut squash (yummy!). There are even some delicious dairy-free holiday drinks, such as veggnog, creamy hot cocoa, and homemade apple cider (less dairy means less acne ladies!). Check out the videos below from Buzzfeed's Tasty for recipes.
Meals: 
Drinks: 
3: JUST BECAUSE YOUR FRIENDS AND FAMILY TEASE YOU DOESN'T MEAN YOU QUIT! Just giving you a heads up now, you WILL be teased by family and friends who either haven't experienced or do not desire to experience veganism. At Christmas dinner while you're eating your veggies and they're eating their ham, they will not hesitate to tease you and even tempt you a little bit, but you must stay strong! It is going to seem hard at first to resist, but you are going to be even harder on yourself when you give in. The longer you're vegan, the easier it becomes – trust me!
And there you have it, my tips for surviving holiday meals as a (new/experienced/soon-to-be) vegan.