"That's Life": A Meditation on Celebration and Mourning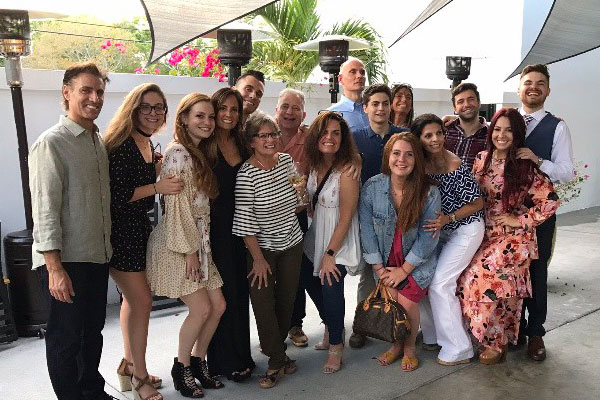 I was born into a large family. My mom comes from a close-knit Italian background, while my dad is from a huge Italian-Irish family. Growing up, I am able to make so many memories with some of the most important people in my life, memories I will cherish forever. But this past weekend has taught me a lot, and is a time I will never forget.
For months, my mom and her three sisters have been planning a surprise birthday party for my Nana's birthday. We all made plans to fly down to Florida for the weekend and surprise her with a huge birthday bash. After driving and flying over eight hours that day, we arrived at the restaurant and we were greeted by my aunts, uncles and cousins. All of my family hid behind a door waiting for the signal to enter. Once my Nana arrived, she was completely caught off guard after seeing that she was not just coming to an ordinary dinner with some friends. Quickly after, all of her grandkids ran out with open arms. She began to cry and looked like the happiest person on Earth. We shared some tears after seeing her reaction. This was such a special time for us because the last time we were all together was four years ago for a wedding. The whole night my family ate and walked around catching up with each other. But every time we are together, it seems like we never miss a day in each others' lives, because of the close connection we all share. My family and I realized that seeing everyone together at such a happy place, during this special time made all of the traveling and the short trip (less than 20 hours) worth it.
"
But every time we are together, it seems like we never miss a day in each others' lives, because of the close connection we all share."
Sadly, my family and I had to leave very early the next morning to catch another flight back home. After arriving back to our house, we quickly got dressed and drove down the shore to attend a wake for one of the family members on my father's side. My uncle's brother had passed away earlier in the week. Entering into the funeral home, I felt a strong wave of depressed, mournful spirits. The dim lights and dull walls made the room feel so dark it added to the sadness. We saw some of our family and paid our respects. I was not used to seeing my aunt, uncle, and cousins like this before. I always saw them as happy, funny, bright individuals, but in this setting I realized that this is one of the many hardships that comes with life.
The next day, we drove back down the shore for the church services. Family and friends entered with anguished faces following behind the casket. I had to look away at times to stop myself from shedding a few tears; going through the services was a very difficult task for many of us.
After the church services, we drove a block down the road to a restaurant for lunch. This allowed everyone to relax and talk to the friends and family around them. But this next part showed me the true meaning of family, love, and faith.
Close to the end of lunch, my uncle's other brother stood up and asked the crowd if anyone wanted to share a few memories they had of his brother. Person after person began popping up out of their seats reminiscing over the memories they made with their deceased family member, friend or colleague. Through fighting back tears, they were all sharing the positive impact that one individual has left on their lives. They connected over the funny and sad memories, from a story about a delicious cup of coffee to the great wrestler at DePaul Catholic High School. It was amazing to see this family come together and be able to share a few laughs, and a few tears. Although not everyone was blood-related, the connection that was present in that room made everyone realize that they were all connected in one way: through the spirit of their loved one that they were mourning the loss over. Numerous people stood up and said how their friend would not want to be remembered by the messy way he passed, but he would want us to celebrate the amazing life he lived. It was also incredible to see the different ways that each individual found a sense of comfort. Many people stood up to explain what a beautiful, bright, sunny day it was outside. They all believed that it was their passed loved one letting them know that he was okay, and that he was watching over them. The fact that they were all able to keep faith as one of the main aspects in their lives during this very difficult time, allowed me to see that they were all going to be okay. Each individual leaned upon one another for support and comfort.
"
I witnessed the circle of life through just two events: life and death."
At the funeral, I was talking to my Poppy. I explained to him how crazy it felt to go from a birthday party to a funeral; he responded by saying, "That's life." My Poppy was right. My family and I went from celebrating a huge milestone in my Nana's life to mourning the death and remembering the life of a loved one, all in the course of one weekend. I witnessed the circle of life through just two events: life and death. I witnessed the strength of family, love, and faith, as well as the unbreakable bond within a family. The connection that each individual shares with each other and the power of God in our lives that can help us get through the best and the worst times in our lives. In just two days, I was able to realize that, though we all live and we all die, the way we spend those days in between is what really counts.
Please share our stories: