Roses Are Red, Caelynn is Blue, Will She Be Making Her Bachelorette Debut?
Ain't nothing wrong with my girl Caelynn, she just got kicked from The Bachelor too soon.
Hang on for a minute...we're trying to find some more stories you might like.
While Caelynn Miller-Keyes was voted off during week eight of the Bachelor, her road to marriage is not over; in fact, it has just begun. In a national upset, Caelynn was sent home in a shocking breakup with Colton Underwood, The Bachelor, just after he met her family during Hometowns.
Caelynn was "completely blindsided." "I one hundred percent believed that I was getting engaged at the end of this," she said. "But Colton fooled me."

Her positive and level-headed demeanor allowed her to calmly handle the drama thrown her way, capturing the heart of Bachelor Nation. During the "Women Tell All" episode last Tuesday, Caelynn was interviewed for the first time since the breakup.
"How can we go from having the best time and an incredible relationship to just, nothing?" Caelynn confessed to Chris. Chris assured Caelynn that her story was well received and supported by Bachelor fans. Some Social Media influencers and Bachelor fans have even become vocal about their support for Caelynn.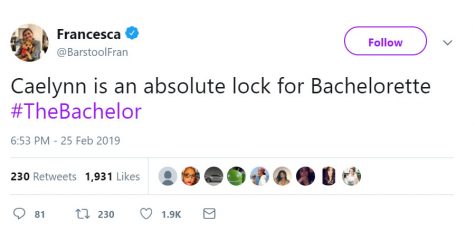 Caelynn's traumatic story was also brought up, and she finished the interview by thanking previous Bachelorettes for sending her messages of support. During her first one-on-one date with Colton, she shared a serious story that led fans to emphasize with her and applaud her for her bravery. Four years ago as a sophomore at Virginia Commonwealth University, Caelynn was sexually assaulted and her traumatizing experience was ignored by authorities, leaving her abusers unpunished. With the movements against sexual abuse in our society today, her story, strength, and perseverance was greatly respected by nearly everyone.
Not only was Caelynn a fan favorite, having all the qualities fans appreciate, but she gained the respect of previous Bachelorettes, further increasing her popularity. The general consensus is that Caelynn deserves love, especially because of her story. Caelynn was not meant to be the fiance of Colton, but rather the Bachelorette for Season 23.