Leaving a Mount Legacy
As our senior year comes to a close, all of us are scrambling to make our few last memories before we are off to college. The end of high school is one of the first huge steps into our future. For some of us, college is a new and exciting thing; but for others, not so much. Some of us have been going to school together since we were six years old and breaking apart is going to be hard. As we prepare for the next part of our lives it is always important to look on the memories made. As I look back on my experience at the Mount, I think of the good times and how much of an impact the Mount had on my life.
Mount Saint Dominic has been a part of my life for quite some time now. Quite frankly, I don't know a life without it. I am a senior in the homestretch waiting patiently for June 2. I have three sisters who attended the Mount, all of whom had completely different experiences. My oldest sister, Abby '08, started the Mount in 2004 when I was only four years old. My middle sisters Madeline '15 and Catherine '17 followed her. I grew up with a legacy. I grew up hearing stories about the things my sister's got away with in school and all the memories they made. From the ages of four through thirteen, all I wanted to do was be a part of the Mount.
I watched the school develop into the academy it is today. I watched my dad and my sister start the lacrosse program in 2004, and am happy to have carried out my sister's legacy by playing on the team. I followed the swim team religiously throughout my childhood. The girls on the team became my role models and people that I wanted to be like when I got to high school.  I rooted the team on from the sidelines, watching my sister swim for them, but even after she graduated I still followed the team. I watched them win county championships in 2004, 2010, 2012, and 2014. I kept up with the roster and the outstanding records. I love to say I was part of those glory days, even though I was only ten years old. When I finally got to high school, I was most excited to join the legendary swim team. Although it wasn't up to its incredible record , it was still an absolute honor to be part of something that such inspiring women were once part of.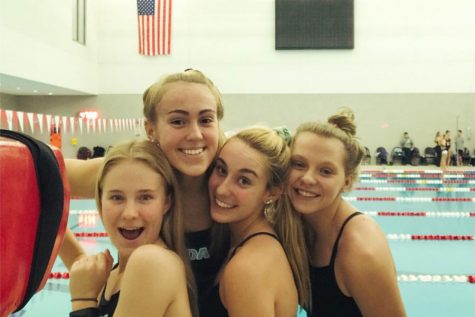 As for myself, I have made the best memories. I played assassins with my friends. I skateboarded down the hallway and drove recklessly through the parking lot. I swam on that team that I always wanted to be part of.  I played on the lacrosse team started by my sister and am so proud to see where it is today. I made those same memories that my sisters told me about and I had the exact high school experience that I had grown up dreaming about. Unfortunately, I am the youngest so I can not pass down my legacy, but I like to think that I did it justice.
Please share our stories: