Governor Murphy Provides Plan for NJ Restoration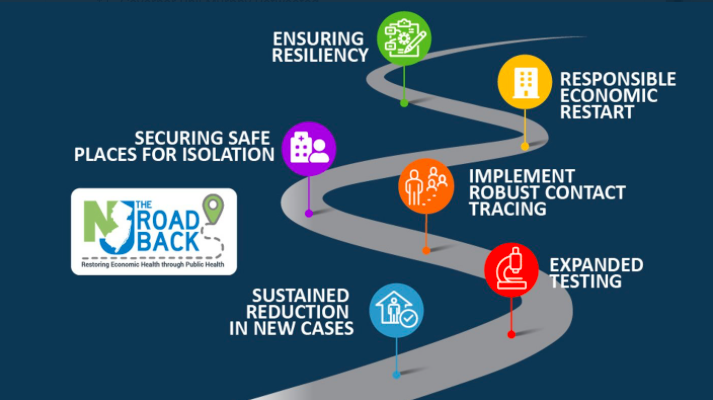 As the state entered week seven of quarantine, the benefits of social distancing practices are now evident. This past Monday revealed a slight decline in the rapid increase of positive cases, with a total of 2,146 new positive cases as per a report from Governor Phil Murphy. Although the state is experiencing a decline, the total numbers are 116,264 (as of April 29 at 1 p.m.) with a resounding death toll of 6,770. 
In an attempt to continue fighting COVID-19, Murphy established a strategy centered around six key principles. His goal is "to restore economic health" by " [promoting] public health," which would then allow for a sense of normalcy around the state. The first step on this road to recovery, Principle 1, is to show a steady decline in new cases of COVID-19 over 14 days. This includes a less active participation from hospitals, as they demote their operations from working under terms of crisis.
Principle 2 involves expanding testing capacity. Testing sites will become more accessible, primarily to essential workers, but then expanded to include all residents. If an individual tests positive for COVID-19, he/she will immediately be linked to a healthcare professional to assess treatment options. Principle 3 is the implementation of robust contact tracing to track the spread of the disease, which allows for preventative actions and a better understanding of the spread of infection, making officials to better able to understand which areas are likely to become "hotbeds" for the cultivation of the virus.
Principle 4 promises additional services for those who do test positive for the disease, including safe spaces to isolate in an effort to prevent the spread of infection to family members and aids. 
The next stepping stone on the journey of healing encompasses New Jersey's economic health, Principle 5. Gradually, businesses will reopen on the basis of their level of disease transmission risk. Despite the slow revitalization of companies, social distancing and home-quarantining will remain in effect during this time. Workers are urged to continue to work from home where feasible. Social distancing guidelines will still be in effect, so when people do engage in essential tasks, such as grocery shopping, they will be required to wear masks.
Lastly, Governor Murphy hopes that every New Jerseyan can gain insight from this experience, as to not repeat this pandemic in the future. Healthcare providers and government officials will equip themselves more efficiently with the tools that have proven successful during this time. Hospitals will build up their stock of equipment such as ventilators, so that in case of a relapse, they are ahead of the battle. Officials will also strive to formulate a guidebook for future emergencies of similar natures based on the current experience.
Like the historians have always recounted, one must learn from the past, and that is exactly the intent of Governor Murphy. This is the basis of Principle 6, ensuring New Jersey's resiliency. By using the COVID-19 pandemic as an example, the state of New Jersey will be ready to fight whatever may come next, whether that is a recurrence of the novel coronavirus, or another new disease.
After the completion of this 6-principle program, New Jersey will be restored to its full health, both physically and economically.
Please share our stories: