Verses for Hope: A Pop-Up Poetry Reading
Hang on for a minute...we're trying to find some more stories you might like.
Hope is universal. Whether you call it optimism, looking on the bright side, confidence, faith, courage, or just pushing through, we all require it to get us through our days and our lives.
I recently attended a pop-up poetry reading event entitled "Verses for Hope" in Washington Square Park, New York City. It was hosted in tandem by Maria Popova, a Bulgarian blogger, writer, and critic, and the Academy of American Poets. Maria Popova, the host and my personal hero, summed up the event impeccably when she said, "We invited beloved writers to each read one or two poems that nourish resilience and restore our faith in the human spirit as we wade through these troubled and divisive times. Musicians bookended the reading with two tributes to Leonard Cohen."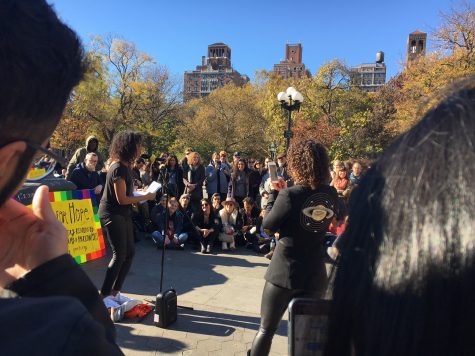 Sarah Jones is on the left and Maria Popova is on the right.
"
It was a powerful and cathartic experience for me as well as many others…"
It was a powerful and cathartic experience for me as well as many others who experienced it in person or online via Periscope. The roster of readers included Elizabeth Alexander (who read a poem at the inauguration of President Obama eight years ago), Sarah Jones (an actor and playwright), Maria Konnikova (a psychology writer), Janna Levin (a cosmologist and novelist), and Adam Gopnik (a writer for The New Yorker). Simply being in the presence of these accomplished writers and musicians instilled great feelings of hope and resilience in me.
It was obvious that each poem recited was chosen with great care, despite the fact that the event was pulled together in less than 48 hours. The weight of the words carried through the park and left all who attended with lighter hearts in this time of great division and fear in our country and world. The reading was scheduled to last an hour and a half, but they decided to extend it to allow for more words to be shared. Some of the poems recited are included at the end of this article.
"
The weight of the words carried through the park and left all who attended with lighter hearts in this time of great division and fear in our country and world."
Poetry is an essential form of expression because it gives us an unprecedented sense of what someone else's experiences actually are. As Anne Waldman said at the poetry reading, "We must keep the world safe for poetry."
Links to some of the poems shared at the event:
September 1, 1939 by W.H. Auden
A Poem for Barack Obama's Presidential Inauguration by Elizabeth Alexander