Staging Almost Maine
One student's role reversal.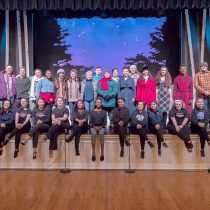 Many enjoy the experience of performing on stage while others shudder at the fear of it. Whether or not performing is your personal cup of tea, tech crew for the Mount productions is an experience almost anyone can enjoy. I have always enjoyed the acting and performing aspect of theatre, but never experienced the production side of a show. This year, the Mount produced Almost Maine, a show about the civilians of an imaginary town in northern Maine. This show has many lovable characters and so many great puns. Though the actors play a huge role in the making of a great show, the production crew is equally as important.
There are many different jobs on the production team, such as costumes, hair and makeup, stage managerial positions, dramaturgy, and set design. This year I was lucky enough to be student director and a stage manager. I have been a dancer my whole life, and it was very interesting and rewarding to see production from the other side of the stage. I learned a lot more about lighting, set design, and other jobs that are normally handled by the people behind the curtain. Being responsible for setting props, changing scenes, and delivering cues was exciting and a new challenge that I was very ready to welcome. Though I love being on stage in front of an audience, being part of the tech crew taught me some great lessons and strengthened the bonds between myself and the other people in the production.
If tech crew sounds like something that would interest you, the musical, Bye Bye Birdie is fast approaching and help is always needed. Stage time and performing may not be for you, but you can always be a part of the Mount arts family when you join tech crew.
Please share our stories: