Catholic Heart Work Camp: A Reflection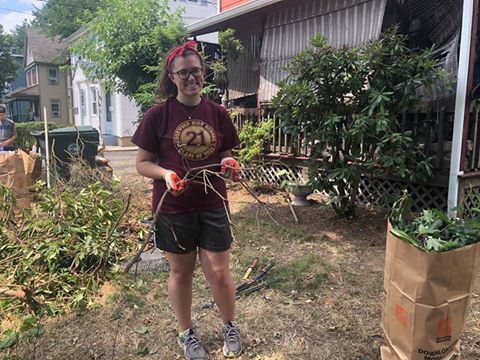 Catholic HEART Work Camp is a 25-year old national service organization that provides teens an opportunity to travel to dozens of cities and serve through providing home repairs and working at nonprofit organizations. This is a reflection about my trip to CHWC Hartford from July 8-13, 2018.
Every year, Catholic HEART Work Camp rolls around and I think I know what I'm getting into. And, every year, God sees my preconceived notions, laughs at them, and gives me something indescribably better.
CHWC Hartford was a struggle at first: my air mattress wouldn't seem to stay inflated, our sleeping quarters (second floor of a school with no AC during a 90+ heat wave) felt like a sauna, and my work team was quiet for the first day. I felt sick from the less-than delicious food and had to literally roll myself out of bed Monday morning. To make things worse, our resident for the first two days would not allow us inside, meaning that we ate lunch outside in the heat and had to drive 10 minutes to a McDonald's just to use the bathroom, and had us doing what I thought to be meaningless tasks, like washing rocks. Having been on two camps prior to this summer, I thought I was being cheated out of my favorite week of the year.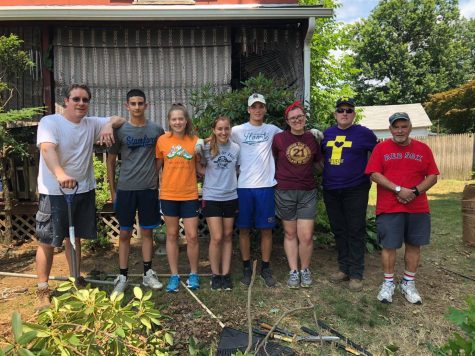 After a day of frustration on Monday, I sat at our morning Mass, celebrated by one of the best, most spitfire priests I've ever met, and prayed one simple sentence: "Lord, make me humble like you."
God hears our prayers. Waking up did not seem to be a challenge, and I found myself wide awake during Mass. The 94-degree heat didn't seem to be that strong in the shade of our resident's house. We arrived to our work site that day to find that our quiet, even standoffish resident was so pleased with the day prior's work that she bought us ice cream and made us a traditional Peruvian drink as a sign of gratitude. She ate lunch outside with us, played Peruvian music for us while we worked, and expressed heartfelt thanks for us at the end. The infamous mystery meat for dinner on Taco Tuesday was delicious to me. Eucharistic Adoration spoke to me. A wild game on Spoons sent me to bed laughing so hard my stomach hurt. Everything from after that prayer on Tuesday morning seemed to get better, but I realized that some of my grievances were still true. It was still hot out, my team was still quiet, etc. Prayer had not changed the situation; prayer had changed me.
I have seen this phrase in action so many times this week, whether it was our second resident, a disabled Vietnam vet and a hoarder, telling us that after cleaning off his porch, weeding his yard, and praying with him, he was ready to turn his life around; whether it was boys from our parish, once reluctant to do anything "too Jesus-y", showering and getting ready in a rush after returning back from their work so they would be on time for our daily praying of the Rosary; or the countless souls that were touched during Eucharistic Adoration or Confession. God loves us so much that he gives us a means of directly communicating with Him. All we need to do is close our eyes, calm our minds, and take the invitation.
Anyone who says the Church is dying out or Church is losing young people has clearly never seen the impact that service and love for God is having on those who have attended Catholic HEART. A staff of almost 10 college kids has given up their summer to travel around the country in a van, sleep on the floor, and lead these camps. Priests from across the nation have left their parish homes for a week to serve in solidarity with their congregations. A team comprised of teenagers from New Jersey, Connecticut, Maine, and Maryland and led by two Christ-like men from Maryland and New Jersey managed to find common ground and even laugh in the face of heat, bugs, dead rodents on porches, and an endless stream of Uncrustables for lunch. The good people of Hartford, CT, be they elderly like my residents, disabled with life-threatening illnesses like others, or financially endangered like most of those we have served, had the courage and humility to open their doors to complete strangers and ask them for help. Christ was at work in that community and alive in everyone present.
Have we eliminated poverty this week? Have we finished every project needed on every house? Did we all break ground with our resident and connect with them? No. But does the Shepherd not rejoice in the finding of 1 sheep missing from His flock of 99? Our residents were not only poor in possessions but poor in spirit. We have shown individual souls that Christ sees them, hears their cries, and longs for them to find joy and comfort in Him. We have reminded them that there is a new generation coming of age, motivated by the spirit and preparing to make an impact. We have offered up our prayers for their salvation as we toiled for in the heat for four days. This may not change our world. But it has changed theirs.
God loves His People. Thank you, CHWC Hartford, for reminding me of that.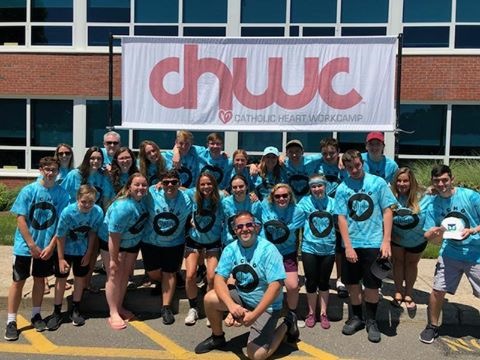 Please share our stories: