My Life as a Wannabe Fashion Model
Recently, I was given the opportunity to fulfill my dreams of being a runway model in a fashion show for Saint Peter's Prep, a private high school in Jersey City. By runway model I mean I walked a stage length and back in front of 500 mothers of students who attend Prep. Though this wasn't a real fashion show, and I am not a real model, it was quite the experience to say the least.
The fashion show is aimed at getting the high school's seniors and the sisters of the students to walk together in three different categories.
Casual wear. The boys are given a gift card and are told to pick out at outfit that best represents who they are.
The Ebony Club. A student-run club created to educate other students on black history and black culture. Though the club has been a prevalent part of the Prep community for years, they made their debut on the runway  this year. Some students wore the club's t-shirt and others styled their own outfits.
Formal wear. The seniors and sisters of Prep students walk in formal tuxedos and dresses.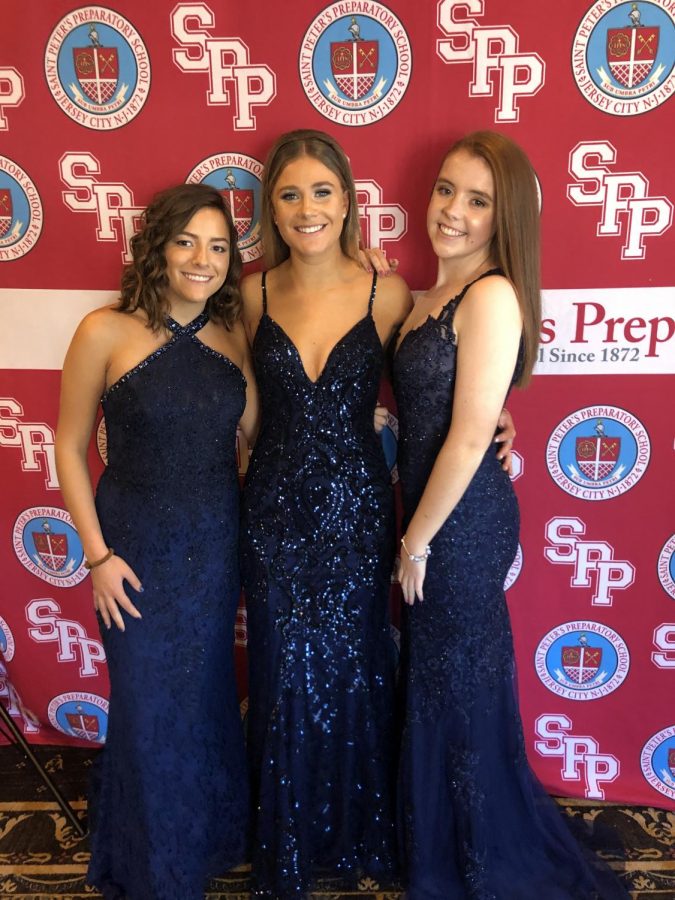 The process began with picking two dresses from designer Madeline Gardner's new spring prom collection. Gardner, the mom of two Prep graduates, has been donating her dresses to the sisters who participate for years. Luckily, many of my friends were all participating in the fashion show so I never had to do anything alone. After picking two dresses, we ventured to Jersey City for our introduction to the mothers who help run the show and were measured in order to have the dresses shipped in our sizes from Italy. Once our dresses were delivered we visited Gardner's New York location for our fittings. Lucky for me, I didn't need any alterations (shout out genetics!).
There were a few necessary preparations for the fashion show. I whitened my teeth using Crest White Strips; I got a spray tan; I got my nails and toes painted light pink; I got a haircut and got my eyebrows threaded; I also did face masks the days leading up to the show. I had to make sure to sleep because I get the worse under-eye circles known to man (they are designer though).
Then the day of the fashion show finally came. We were required to be at the venue at 8 a.m., and because of the distance to the venue we had to leave at 7:15 a.m. in order to get there on time. I was exhausted, to say the least, but excited for the day ahead of me. Little did I know how draining it would be to be a runway model.
"
I was the first to get my hair and makeup done (luckily and unluckily). Lucky to just get it done and over with, but unlucky in that it was hours before I even put my dress on"
I was the first to get my hair and makeup done (luckily and unluckily). Lucky to just get it done and over with, but unlucky in that it was hours before I even put my dress on. My hairstyle was inspired by Gigi Hadid; I went for a pushed behind the ears look with my hair being teased in the back and straightened after. For my makeup, I decided on a light, sparkly eye and bronzed face. I chose to wear a tight, navy, sparkly dress with a low back and a flared bottom. I wore Madden Girl nude heels and a diamond bracelet and earrings to accent the dress. I was beyond impressed with how I looked and I took many selfies to prove it!
After I put my dress on (four hours later), I climbed down the stairs trying not to wipe out. My partner, James, and I picked out what we do on the runway to kill time before walking. To beat the nerves we picked funny poses and some dance moves and ended with one serious pose for the professional photographer at the end. Turns out we were on the runway for about 45 seconds which, in comparison to the six and a half hours I spent waiting around, was not as long as I hoped. The day was long compared to my time on the runway but I loved every second of it.
I don't know how runway models do that every day, and I am not sure I ever want to find out, but the experience was new, different, and beyond fun.
Please share our stories: