Sister Scandal: A YouTube Career Down The Drain
The Beauty community is up in arms about the most recent drama between James Charles and Tati Westbrook. People are choosing sides while we watch a YouTube career go down the drain.
James Charles is a well-known YouTube influencer, but he may not be known for the best reasons. The beauty icon has created many beautiful makeup looks and collaborated with Morphe on a makeup pallet. His 16 million YouTube subscribers have stayed by his side throughout numerous scandals and fights between James and other online creators. However, Sister James had yet another sister scandal and no one feels sister sorry for him.
So where do we start? How about his not-so-camp Met Gala outfit. While Lady Gaga was busy with her four costume changes and Hailey Bieber rocked a light pink dress, James Charles was a complete let down. His outfit, styled by Alexander Wang, was ripped apart by the media. The chain-mesh top and simple black pants reminded fans of his Coachella outfits and most agreed that it was not an appropriate fashion choice for the Met Gala.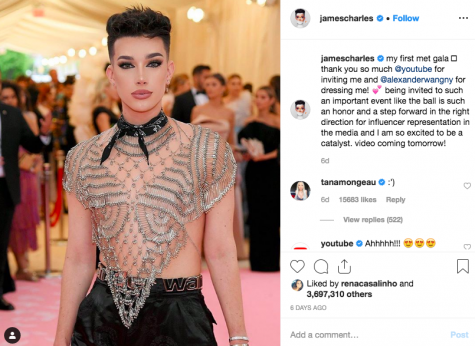 To add insult to injury, James Charles posted a photo from the event on Instagram with a caption that caused an uproar. He claimed this was "a step forward in the right direction for influencer representation in the media and I am honored to be a catalyst", to which many fans responded to negatively. Many argued that he was a relatively-new YouTube personality and that there were many creators who acted as the catalysts before Charles. Others call him out on his ego, saying that he did not even deserve to be at the Met Gala in the first place.
Aside from the sister slip-up with his Met Gala outfit, he is in deep trouble with his ex-friend Tati Westbrook. Let's back up to Coachella, shall we?
Charles claimed to have a security issue at Coachella and he said he was being mobbed by fans. He took cover in the Sugar Bear Hair tent, which is where this sister scandal starts. Sugarbearhair is a well-known supplement brand that the Kardashians and other celebrities have promoted. Charles took cover in their tent to escape the large crowd forming, and several days after he promoted the brand on his Instagram story.
Tati Westbrook, his longtime friend, was a mother figure to him and was always willing to help the young beauty guru as he was beginning his career. Westbrook, a beauty creator on YouTube as well, started her own line of hair care supplements and vitamins. Obviously, Sugar Bear Hair would be one of her strongest competitors. Sister James promoted the brand, meaning there was a contract between Charles and the company. This contract comes with serious moral implications, because though he did not hurt Westbrook legally, partnering with her competitor broke the trust between the two creators. Tati posted an Instagram story after the incident, expressing her opinion and explaining how hurt she was by James Charles's actions. Fans of James began to attack him and side with Tati because most people agree that he should not have partnered with the company.
This incident manifested into two videos, both with millions of views. Tati Westbrook posted a video called, "BYE SISTER". She listed her grievances against James Charles and talked about how deeply hurt she was by his actions.  Westbrook talks about her relationship with Charles and how she took him under her wing. She addressed the Sugar Bear Hair scandal and calmly talks about the entire scandal. This video convinced many viewers to support Tati, rather than Sister James. Click here to see Tati's video.
James Charles posted a video called, 'tati" and apologized for breaking her trust and ruining their friendship. Very few appreciated the sentiment and the majority of those who watched commented on his insincerity.  The brief video failed to mention one of the largest scandals James as been a part of. Click her to watch James's video.
James Charles has been accused of sexually harassing straight men. Many men who went to school with James have come forward to state that he exhibited predatory behaviors. One of his previous classmates claimed that James Charles assaulted him in a bathroom during his freshman year. These behaviors were alluded to in Tati's video, but she specifically addressed an incident with James and a waiter at her birthday dinner. Tati claimed that James was relentlessly flirting with a waiter who was clearly straight and clearly uncomfortable.
"It doesn't matter I'm a celebrity" said Charles, allegedly. He continued to flirt with the waiter and made others uncomfortable while talking about how attractive he though the waiter was, talking about him in an extremely sexual way. Tati was embarrassed by his actions and felt the need to apologize to everyone else at the dinner the following day. She stated that she always had to make excuses for James and was disgusted by his actions.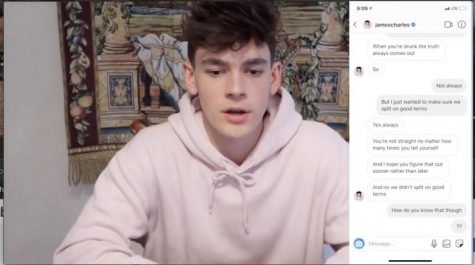 The waiter from that night came forward in a now-deleted video, talking about his experience with Charles. This waiter, who was questioning his sexuality at the time, contacted Charles later and the two spent time together in a hotel room. When things were escalating farther than the waiter wanted, James protested when he tried to leave. Later messages reveal that James was trying to convince the waiter that he was not straight.
These three nails in the coffin of James Charles's career caused him to lose about three million subscribers (and his numbers keep getting worse). Meanwhile, Tati's channel is soaring as she gains upwards of three million subscribers. Click here to watch the live stream comparing both of their subscriber counts.
James Charles lost many significant followers on social media: Kylie Jenner, the Dolan Twins, Emma Chamberlain, and Shawn Mendes, just to name a few. #JamesCharlesIsCancled recently trended on twitter and many watch as a successful YouTube career travels on a downward spiral.
So Sister James had one too many sister scandals and social media users are sister saying goodbye to the beauty creator.
Please share our stories: