Serafina Broadway Offers a Taste of Italy in NYC
With so many restaurants to choose from in New York City, it can get hard to find that perfect restaurant for dinner. Italian food is always a good option, and with delicious food and a casual, but cool vibe, Serafina Broadway (on the corner of Broadway & 55th) is a solid choice.
The Vibe and Design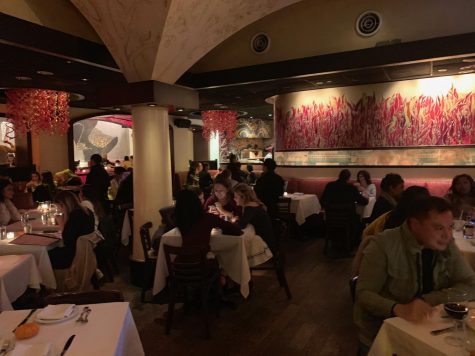 This tiny little restaurant on a corner is a good size with many tables, including outside seating. The ambiance is great, it also takes you away from all the hustle and bustle going on outside. A complaint that I feel greatly takes away from the vibe of the restaurant is the fact that the music is very loud, making it hard to have conversations with your table. The lighting is more on the dim side making it a more relaxing space. Also, there are beautiful designs and art pieces on the walls. On the ceiling there are beautiful tree paintings lightly put on there. There are also many beautiful stone designs on the walls and lights, such as patterns and fire designs on the lights. The art and creativity all around the restaurant give more of a personality to your dining experience. The vibe of the restaurant was great.
Service 
The only issue I had when I went was that the server had a little bit of an attitude and my table felt very forgotten about. Our table did not get checked up on many times and just to get our drinks took a while. My service by the main waitress was not great but the other servers helping out tried to make the service better. They helped bring out food and drinks, which helped a little because of the fact that the waitress could not keep up with our table. 
A Taste of Italy… in New York
The best part about Serafina is the delicious and quality food. Every dish you get gives you that homemade feeling and makes you feel like you are right at home. There are an abundance of options on the menu, including almost every Italian food you can think of. I personally recommend their creative twist on common ravioli: black truffle ravioli. The homemade ravioli with black truffles and a touch of butter come out warm and make you happy from the first bite. The price for this dish is $30, but it is absolutely worth it. There are also many great appetizers, such as the bruschetta. The toasted bread topped with chopped tomatoes, fresh basil, extra virgin olive oil & a touch of garlic is priced at $12. It has fresh, crispy taste and the flavors of everything really compliment each other nicely. Other appetizer dishes include calamari, fresh seasonal salads, cheeses, and a classic antipasti. In addition, there are many pasta, fish, and meat options. The vegetarian platter made with spaghetti squash and sautéed mixed vegetables, pine nuts & tomato sauce is priced at $22. 
For People With a Sweet Tooth…Some Dessert Options 
Even with all the delicious appetizer and main course options, you must leave room for dessert. The desserts are delicious  and make you wish it could last forever. There is sorbet and gelato in a variety of flavors to choose from. I particularly like the chocolate mousse dessert the best; it is dark chocolate mousse cake, served with vanilla gelato. It is light, creamy and tasted very homemade. I also tried the il tiramisu which is made with Lady fingers, mascarpone, espresso & cocoa dusting on top. It tastes just like Grandma used to make, maybe better. They have tea and many coffee options on the menu as well. 
Serafina Broadway makes you feel like you are in Italy enjoying a delicious homemade meal. I highly recommend trying Serafina, especially if you are a lover of Italian food.
Please share our stories: