Racism Prevails at Syracuse University: A Very Orange Scandal
On November 7, 2019 a racist act was reported to the Department of Public Safety at Syracuse University. According to Syracuse.com, racist graffiti was painted on the walls of Day Hall, a freshman dorm building, on the fourth and sixth floors. Following the incident, over the course of a little under two weeks, incidents were reported almost every single day. 
On November 18 it was reported that a white supremacist manifesto was being spread online to the entire student body and staff. The Syracuse Department of Public Safety announced via Instagram that the FBI, as well as the New York State Police, was involved in the investigation of the manifesto.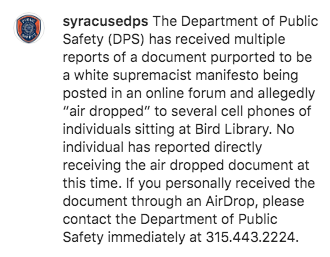 The continuous press coverage included reports of an African American student who claimed that a group of fraternity brothers shouted racist, derogatory names at her. Surprisingly, the main offenders were not even from Syracuse, but were on campus visiting fraternity brothers. Disciplinary action was sent to the school those students attend and at Syracuse the fraternity involved was suspended. In addition, all sorority and fraternity activities were suspended until further notice.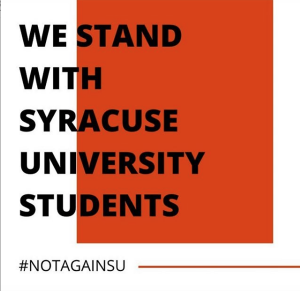 The ongoing situation at Syracuse created tension between the administration and the student body. Students launched an online movement #NotAgainSU to promote stricter administrative action. The university chancellor announced that all public safety cameras were functioning to ensure students and staff that they should not fear further harm. In the midst of the chaos, professors canceled classes and students left school early in fear for their safety. 
To many, it is surprising to see these racist agendas infiltrating the culture at Syracuse University, considering the school is historically liberal. 
It is horrible to see that the world is plagued by such intolerance and violence, especially when this specific crisis hit close to home. My older sister dreamed about attending Syracuse for as long as I can remember, and on one cold December night she got an exciting email from admissions that made all of her dreams come true. Until she felt unsafe. On November 19, my sister became aware that in Brewster Hall, her dorm, there was a shooting threat. In complete panic she and her friend from California immediately contacted my mom. I will never forget that phone call; I could hear the fear in my mom's voice when she spoke to my sister. Immediately, she called my aunt who lives in Syracuse and my sister and her friend took refuge there. Though my sister did not seem too phased by it, the online reactions of the student body and parents signaled increasing frustration because of the lack of attention on the part of the administration. Facebook pages administered by parents of children who attend Syracuse show parents threatening to make their sons and daughters transfer if the school does not gain control of the situation.
Please share our stories: