Morton's Steakhouse Serving Deliciousness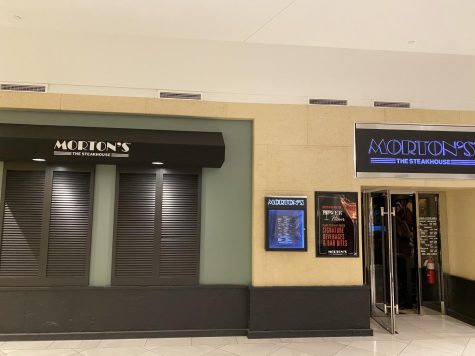 If you are in the mood for a steak or fresh fish, Morton's Steakhouse inside the Shops at Riverside mall in Hackensack, New Jersey is an excellent choice. There are all different steak options and fish dishes, along with lobster tail and a wide variety of sides to make the perfect meal. 
The Ambience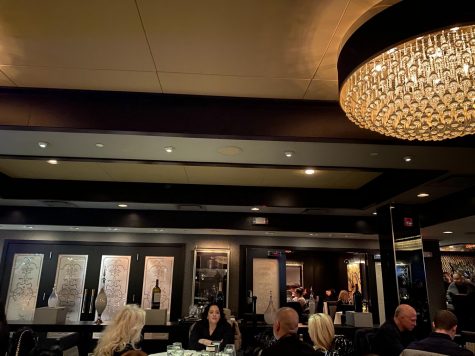 This restaurant is in a large size mall, which means that there has to be a decent amount of space to fit all the customers. The dining area is not gigantic but it is large enough to fit many tables. There are big chandeliers, beautiful light fixtures, and a pretty wine cellar wall that has a dim light shining on it. This adds a nice effect, it also gives more of a steakhouse vibe. The tables are nicely spaced out and there is a bar area with a few high top tables, which adds some separation for people who want a drink and the people sitting in the dining area. The set up works well for this restaurant and they also have some cool art hanging on the walls that adds a nice pop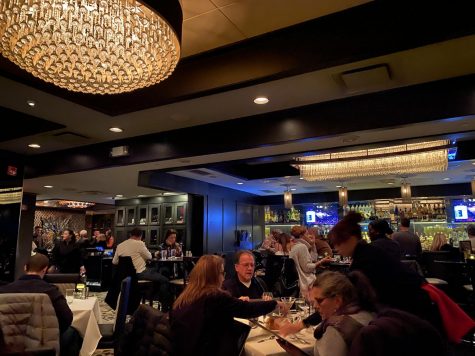 . On the other end of the restaurant is an open kitchen where you can watch the chefs cook your meal. Having the kitchen right in the dining area makes it a much more interesting experience. The restaurant's interior design is truly beautiful. The dim lighting, peaceful music, and whole ambiance of the restaurant make it a favorite.
"
On the other end of the restaurant, there was an open kitchen, where you could watch the chefs cook your meal."
Service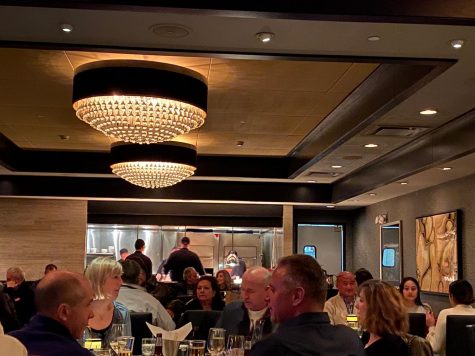 The service here was A+. The server I had was extremely friendly and attentive. The food came out fast and there were no problems with any of the dishes I ate. Even the hostess had good service. We had a reservation and our table when ready as soon as we got there. The waitress came right up to our table and took a drink order. Then, a few minutes later there was bread on our table. All around the service was amazing and it really made the experience of eating here even better. 
For Starters…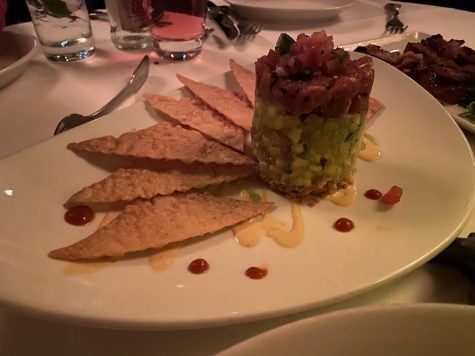 One of my favorite appetizers was the Ahi Tuna Tower, priced at $19. This was a combination of ahi tuna and guacamole with a side of chips to dip. The tuna was so fresh and the guacamole flavor was amazing. The two of those flavors combined with crunchy chips with it, made for a perfect appetizer. Along with that, we also got a chopped house salad priced at $14 and it was delicious. There was lettuce along with diced tomatoes, cucumbers, feta and bacon bits for some texture to the salad. On top was a red vinaigrette dressing, that added that extra flavor that was needed to complete the salad. The salad was a good portion for families and sharing. The last item I ordered was Nueske's Bacon Steak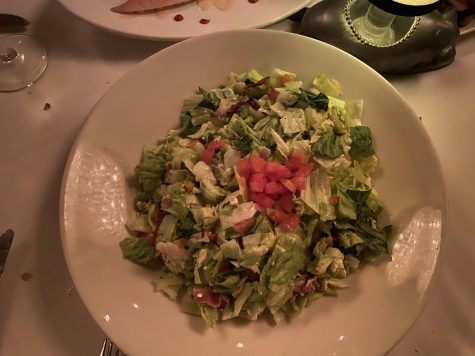 priced at $24. This is 4 thick pieces of bacon that sit in a partially sweet glaze. They were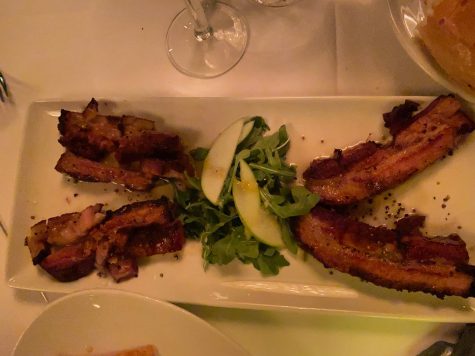 delicious and the meat was very tender. It was easy to cut, my only problem with them was that they were a little fattier than I would have liked. Besides that, this appetizer along with the others were very delicious.
The Main Course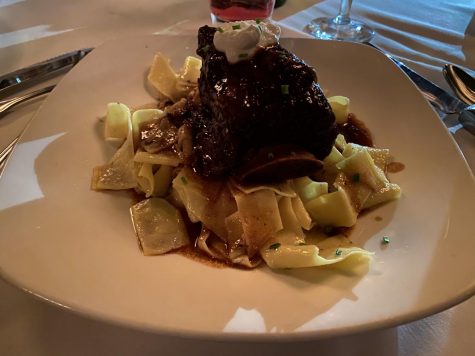 There are many meat options, including my favorite which is the braised beef short rib priced at $36. That is a good price for short ribs, that sits on a bed of noodles with a scoop of sour cream on top. The short rib is so tender, it falls right off the bone. The noodles add a good carb for underneath making it a more filling meal. The sauce that it is in and the flavors all pair together in a fantastic way. There is also a delicious 4oz, 8oz and 12oz filet as options. Pictured here is an 8oz filet mignon priced at $51 along with a lobster tail on the side priced at $48. This makes for a delicious surf and turf. The filet mignon is slightly charred on the outside with a juicy and flavorful inside. The lobster tail is a good size, it is warm with butter and lemon to add flavor. Having this together as a meal was delicious and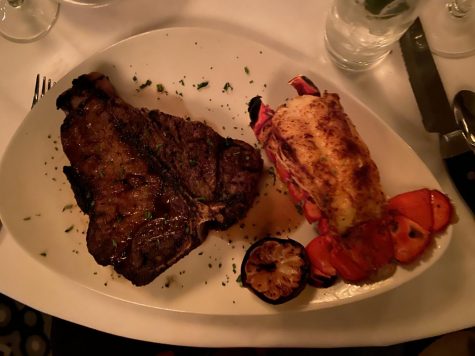 you get flavors from land along from sea. There is a wide variety of sides, all priced at $13. My favorite sides I ordered were the sauteed brussel sprouts, the jumbo baked potato, sauteed spinach with button mushrooms, and the parmesan and truffle fries. All of the flavors made the sides a perfect addition to any meal you decide on. 
"
I enjoyed the food, the ambiance and the whole experience of dining at Morton's Steakhouse."
Dessert 
There are so many options for dessert. My favorite dessert is the warm molten chocolate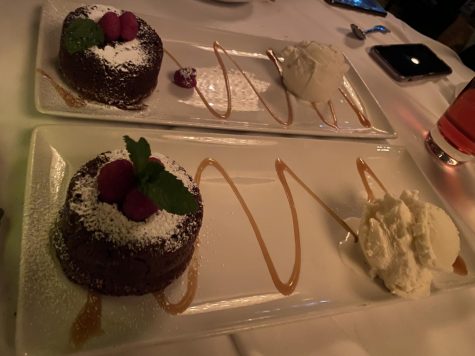 lava cake with powdered sugar and a scoop of ice cream. The cake is so moist and when you cut into it, all of the chocolate inside flows out. The scoop of ice cream adds a cold and refreshing taste to go along with the cake. It is one of the most delicious chocolate cakes I have ever eaten. You just have to make sure you order it about 20 mins before you want it so that they can make it, have it ready and it is warm for when it gets to your table. 
Final Rating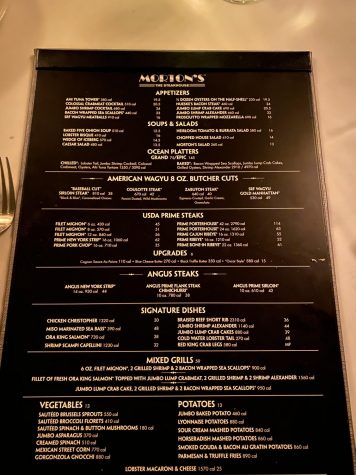 This was an all-around amazing restaurant. I enjoyed the food, the ambiance ,and the whole experience of dining at Morton's Steakhouse. Anything you decide to eat will be delicious and there are so many options. I give it a 4.5 star rating (out of 5 stars).
Please share our stories: