The "I" States: Idaho, Illinois, Indiana, and Iowa
"
Esto Perpetua "
— Idaho's State Motto (2017 Trip)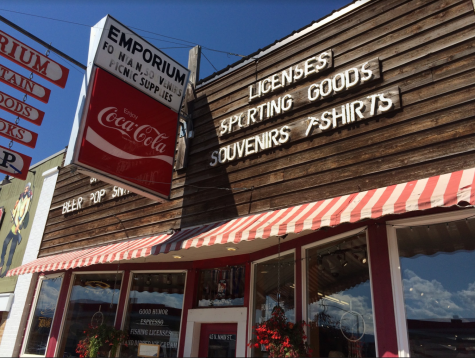 Idaho, one of the eight Mountain States, caters to those who love eateries set in the middle of a cascade of mountains, open skies, and lakes. In fact, Idaho is home to the humble origins of the nation's French Fries: potatoes! Hence its nickname, the potato state. During our day trip to Victor, Idaho, I made it my personal mission to peruse through the quaint amenities in the small town. In the Victor Emporium, the friendly employees urged me to try Idaho's famous Huckleberry Shake! Rather a simplified rendition of a typical Playa Bowl Smoothie, the tart huckleberries are the vital component, along with vanilla ice cream and whole milk, which forms a sweet sensation! Of course, the Huckleberry Shake is a native and tourist favorite. I will never forget taking a sip of my Huckleberry Shake while admiring the tranquil scenery and gazing up at the snow-tipped mountains that seemingly stretched throughout the State. Although we did not spend the entire day in Idaho, the small town of Victor was a prime example of Americana: rural, friendly, and simply breath-taking.
"
I still think of myself as from Illinois "
— Alison Krauss, American Singer (2018 River Cruise Trip)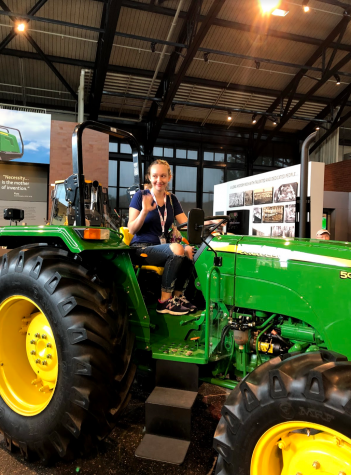 One of our points of interest during our  2018 American Cruise line River (Queen of the Mississippi River Boat) Cruise Trip was visiting Illinois. The bus tour that we embarked on, took us through really popular cities such as Chicago and eventually through Joliet. While the Chicago region was lined with houses that spewed different colors on almost every street, much of the Joliet area was more open and filled with town-houses. We arrived at John Deere Pavilion in Moline where I embraced my childhood dream: I sat in a life-size tractor! Before our stop in Illinois, I remembered the John Deere commercials so I was in awe when I received the opportunity to see them in the Pavilion for myself! Who knew that I would see these tractors, in action, throughout the Midwest and agricultural highlights in America? When we arrived back at the dock, I remember seeing gigantic barges passing by the River Boat. After some casual interaction with some of the other tourists on board, I learned that the barges transport bulk goods through canals and rivers. Not to mention, I remember going through over 20 river locks in Illinois, which either lower or raise the boat when there are different water levels of depth in the canal. From John Deere tractors to River Locks, traveling through Illinois definitely added to my repertoire of transportation modes!
The trip to Indiana has not been fulfilled yet. Stay tuned, it's coming soon!
"
I had to go to France to appreciate Iowa."
— Grant Wood, American Painter (2018 River Cruise Trip)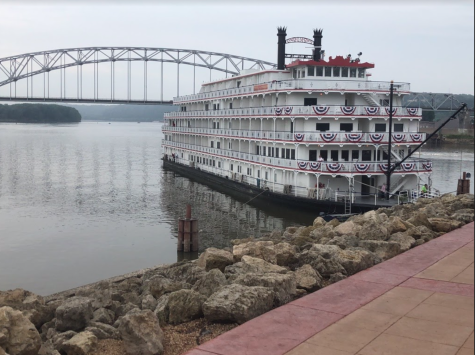 Did you know that Iowa is the home of the famous cow sculpture that is made out of butter? That is enough butter for about 20,000 slices of toast! This unique sculpture is showcased every year at the Iowa State fair and coincides with its distinct tourist attractions that made Iowa a memorable journey for me. As I ventured through the Victorian Streets of Dubuque, I gravitated to the artistic buildings that had remnants of French design integrated into the array of structures. It was not long after I made the connection that I learned that Iowa's rich culture was influenced by the French since France initially claimed ownership of the Iowa Territory until 1763 when it was then relinquished to Spain. In Dubuque, I went to the National Mississippi River Museum and Aquarium which was an awesome experience, to say the least. From seeing an octopus to petting a stingray, I was enamored by the diverse wildlife that not only inhabited the Museum but also in Iowa. It is not every day that you see a giant bald Eagle and a smaller hawk up close in person. The easy-going vibe of Dubuque shortly transitioned into a bustling, lively city once we arrived in Davenport, one of the Quad cities (a region of five cities in Iowa and Illinois), which is home to music festivals and agriculture. Either way, both Dubuque and Davenport are rich in history and in tourist highlights, making them some of Iowa's most popular points of interest.
Please share our stories: