Mountie Defeats Mount Olympus
Mountie Defeats Mount Olympus! Our very own Courtney Roselle '07 competed on this season of "The Titan Games", hosted by Dwayne "The Rock" Johnson. Johnson created this show to put men and women through extreme challenges to test their strength, endurance and mental fortitude. But this competition was not the first time that Roselle has put her athletic abilities to the test. 
Throughout Roselle's high school career at Mount Saint Dominic Academy (MSDA), she was a part of the soccer, basketball and the track and field team. She graduated from MSDA in 2007 and attended the University of Scranton to play basketball and study business. She created her own business, Iron Grace, where she continues to be a personal trainer, motivational speaker and she even has her own clothing line. However, her passion for fitness was too strong which drove her to pursue fitness full time.
In addition to being an entrepreneur and having a fitness career, Roselle always expressed her desire to become a fitness model to show her "feminine side." She pursued this dream and reached out to multiple agencies. Unfortunately, she was denied from every modeling agency, one after another. Specifically, one agency called Roselle in just to tell her that "no little girl wants to look like [her]." She was continuously told that she was "too big," or "too muscular" and she should stop her career now. However, Roselle only used this negativity as motivation and always reminded herself that "robbers don't rob empty homes." "No one comes after somebody that has nothing to give." Roselle said the critics made her stronger, a point she stresses when visiting schools to empower students and encourage body positivity.     
"
"Robbers don't rob empty homes."
Four months after she was told to end her career, her mother attended the US Open Tennis Tournament and was seated next to the editor of Vogue, who was scouting for people to include them in the fitness industry. After Roselle's mother showed the editor of Vogue a picture of Roselle, she asked her to bring her daughter in so they could meet. Two weeks later, Roselle landed her very first modeling appearance in Vogue Magazine. After her debut in Vogue Magazine, more job offers came rolling in from Self Magazine online, Shape Magazine, and Women's Health. 
Roselle said that students at MSDA, including herself, "are very lucky to be in an environment that empowers women, empowers leadership, empowers confidence [and] empowers self discipline [and] respect." Where she does not think she would have received that if she attended another high school. Through her business and motivational speaking platform, she empowers women to come out on top because "this is our time as women […] to make sure we come out on top, […] to give ourselves a platform and to empower ourselves. […] The Mount gave [her] just that because all [she] was surrounded by were women." Roselle works in a very male dominated industry but witnessing female strength and success was nothing new to her because "this was how [she] grew up." "This is my culture," Roselle states. She has "no fear" to empower women, or break societal norms, or ensure that people know who she is and she believes she owes that all to the Mount.
"
"This is our time as women […] to make sure we come out on top, […] to give ourselves a platform and to empower ourselves."
Roselle would tell her 17-year-old self, as a senior in high school, that "every obstacle, every single tear, every time you were mad, every person that ever picked on you, [all] has a purpose. Everything in life." Roselle said while she faced negativity and obstacles, it all made her the person she is today and that girls should "hold on" throughout their lives because there is time to recreate themselves in the future.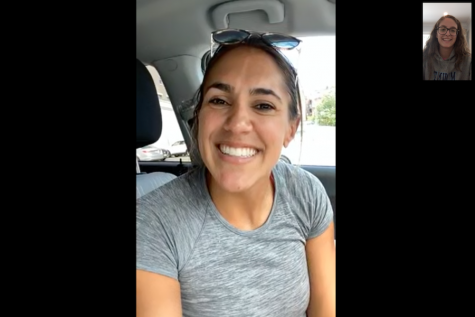 Please share our stories:
Leave a Comment