Mount Students Give Back Amidst Global Pandemic
COVID-19 has caused many sectors of our society to suffer, as outlets for aid have been diminished. Specifically, food pantries are experiencing low levels of donations because, for example, mass-goers opt to attend religious services via a virtual platform. These reserves are lacking their main source of donation, which negatively affects their patrons. In order to combat this, students of Mount Saint Dominic Academy (MSDA) and their families have vowed to serve those who cannot care for themselves. As a leading member of this endeavor, I can attest to the great value of such a project.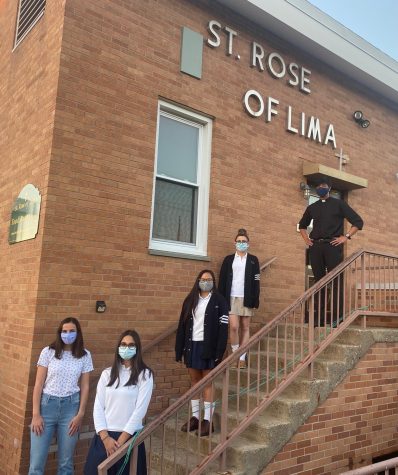 The idea first came to my friends and I when a newspaper revealed the great need for donations at a nearby pantry, and, with the cold weather approaching, many people have found themselves in search of these vital assets. Katherine Nigro '22, Isabella Luciano '23, and I (Isabella Vescera '21) all live in East Hanover and attended Catholic elementary school together before matriculating into MSDA. After much preparation, we soon began organizing a drive; each of us reaching out to our neighbors, families, and friends, asking for donations to reach as many food pantries as possible. We enlisted a friend, Kelly Cincotta, who also attended St. Rose of Lima with us, because we all wanted to give back to the community where we grew up. From East Hanover residents alone, we collected over 1000 items ranging from cans of soup to cleaning supplies. With the contributions from generous donors, we were able to accommodate five food pantries of our choosing that each held a special place in our hearts: St. Rose of Lima Academy, St. Vincent Martyr, St. Patrick, The Market Street Mission, and Caldwell Food Bank. St. Rose of Lima Academy has united our families for years by providing an education for each of us, as well as all of our siblings. St. Vincent Martyr provided Kelly and I with a new home upon St. Rose's closure in our middle school years, and St. Patrick's did the same for Isabella Luciano, her siblings, and my brother. The Market Street Mission in Morristown also carries importance to our group since many of us have volunteered throughout Morristown in the past. Due to our mutual tie to Caldwell via the Mount, we also decided to gear our efforts towards the Caldwell Food Bank, as this society has become our own.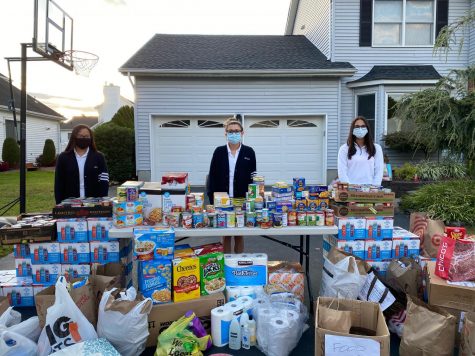 Reflecting on this ongoing experience, I never imagined that it would reach this level of success. I can truly say that my heart is full of warmth due to the donors' abundant generosity and willingness to lend a hand in any manner. Personally, this undertaking has provided me with an opportunity to look back on my childhood and academic journey. The relationships I have with each shelter allows me to feel that I have left my mark on the communities that have touched my life as I prepare to begin a new chapter in my story. In conversation with my peers, I noticed how we all share the same emotions towards this food drive. Katherine regaled that "as Christians, we are taught to be aware of those around us in need" and this project "was only [successful] with the generosity of our neighbors." In harmonious agreement, Isabella added that "it felt good knowing [we were] helping others in need" because we feel more "connected to [our] community" and "had a great impact for families in need." We found a joint sense of accomplishment, knowing that we made a difference in the communities that shaped our lives. 
"
I can truly say that my heart is full of warmth due to the donors' abundant generosity and willingness to lend a hand in any manner."
— Isabella Vescera
Due to the great success we encountered, we will continue these efforts by stationing a donation box at our own athletic center. A box currently sits in front of Mr. Sozio's office, accepting any and all donations brought by our caring students and their families. We encourage all parts of our Mount family to contribute, so that we can put goodness into the world during a time of such confusion. COVID-19 acts as a rain cloud over our society, but making someone smile serves as the light amidst the darkness.
Please share our stories: