The Shows WILL Go On!
The Curtains of thousands of theaters have had to temporarily close, with Broadway shutdown and productions cancelled, for who knows how long, but the Mount has managed to keep the arts alive through its Fall Drama– or Fall Dramas! This year, due to the COVID-19 pandemic, the Mount has had to rework its productions to accommodate CDC guidelines whilst still producing a fantastic show. Through all of the rules and regulations that must be followed, the theatre department decided to run two productions, "39 Steps" and "The Radio Show Disaster." This double production for the Fall Drama allowed the Mount theatre to socially distance themselves and limit the number of cast members while continuing the magic that reflects through the productions.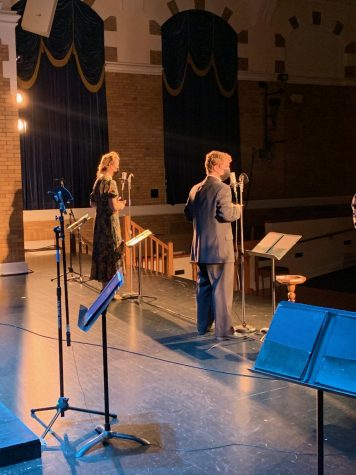 "I was forced to think differently when coming up with a piece that would keep everyone safe with social distancing and could be performed virtually" said Mrs. Posner, Director of the production. "I didn't want us to be stuck on zoom for rehearsals and performances, so I needed something that didn't have a lot of movement to be believable and that didn't require a large cast." Beyond simply keeping six feet, Mrs. Posner had to craft a show with very limited resources, "We were able to split the cast so that more people could be involved and we cut down on tech requirements so that students could take the lead and outside professionals were not required." 
Despite the limitations, it was important to keep the spirit of theatre alive, and as Mrs. Posner calls it, it is an "important part of any healthy society." 
"I was pushed by the needs of the students- let's face it, teenagers need to be able to express themselves. So we found a way to do it." This spirit no doubt charged the students, as well as Mrs. Posner throughout the course of this process. 
"I don't care that I have [to wear] a mask or that I'm six feet away from my classmates or even how strange the staging is," says freshman Bridget Castano. "I've just realized how important being able to do the arts is for me."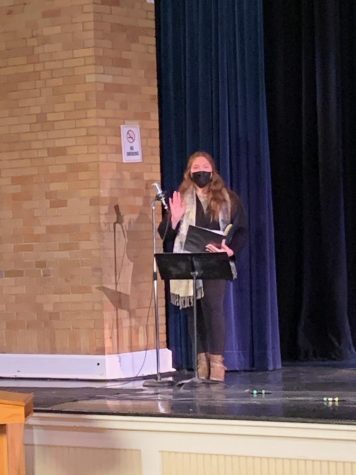 The experience is strange, but what Bridget says is true. Both casts seemed genuinely appreciative to do the show, even if the way it worked was unorthodox to them. My experience with the show was similar. I was, of course, skeptical about how the show would work out, I was nervous and I was worried that we wouldn't be able to do it. But the staging, the six feet and masks were of great comfort to me and my parents, and I felt safer knowing that our best interests were in mind.
"
The backstage experience was undoubtedly different."
The backstage experience was undoubtedly different. Gone are the backstage jam sessions, everyone getting makeup done and getting into costume while a million little conversations and different thoughts are floating through the air. Instead, it was quiet, in a way that even the theater rejected. But it was the light on the actors, on their faces and in their words that reminded me of my old Mount theater. The sparks of joy and love of performing were ignited in each of the actors, and automatically made things a little more normal. 
"I'm so grateful to be on that stage everyday. I barely feel the imperfections of my experiences," Bridget echoes this sentiment, and it holds true. This experience will be memorable for years to come and will remind us of what we may take for granted. And this was exactly what Mrs. Posner had in mind. 
"My goal was for us to produce something interesting that allowed us to express our creativity and to have fun- hopefully, together." She said. "As a theatre community, we needed to be able to create something together, whether it was something in person or something totally virtual."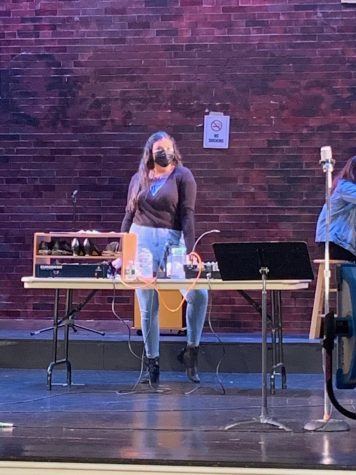 With the show over, the cast has had time to reflect on this, and seems we have all come to the same conclusion Bridget had. 
"I'm not gonna take for granted our opportunity to do this show now or our ability to create amazing shows at this school ordinarily" she said, "I'm so happy to finally be in a Mount show." 
Please share our stories: