The "N" States: Nebraska, Nevada, New Hampshire, New Jersey, New Mexico, New York, North Carolina, & North Dakota!
"
Nebraska: Trains & Corn."
— Unknown (2019 road trip)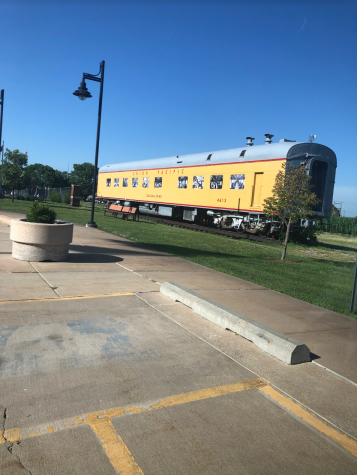 Have you ever wondered where the World's Largest Train Yard is located? Well, Nebraska would be correct! North Platte is home to the Bailey Yard and the Golden Spike Tower, which provides a 56-foot view of the Train Yard. At this point, the Eastern railroads connect to the Western railways on the Union Pacific's rail line. While I was looking out from the Tower, I saw miles of corn that stood over 6 feet tall, but it was shorter than the trains, thank goodness! Looking back on my holistic memories from Nebraska, I remember the green hills and valleys for hundreds of miles. I found Nebraska's simplicity quite captivating. It's serene environment made me forget about the hustle and bustle of the roads that I knew back home in New Jersey. From a distance, I heard a train bell and turned to see that the train had at least 40 cable carts clicking along the tracks. This site was approximately 600 miles from North Platte, where we stayed, but we ironically saw the same train chugging along as its corn yellow shade greeted us once again when we arrived at our hotel.
The trip to Nevada has not been fulfilled yet. Check back to see my adventures there!
"
Fishing the small streams of New Hampshire is a pastime that combines hiking, map reading, and bushwacking- plenty of it."
— Joseph Monninger, American Writer
Similar to Maine, it had been nearly 17 years since I have been to New Hampshire, so I found myself relying on my parents for an anecdote to suffice for my description. The very first account that came to their mind was the Mount Washington Cog Train Railway. The idea behind the Cog Train was that it pushes the passenger up the mountain and then pulls the front while clicking down the mountain. Between the heavy fog along the way and the rickety wooden trestles spanning many gorges, it made for a wonderful story. Ironically, the adventure did not stop until they approached the top of the mountain. My parents were instantly caught by surprise when they realized that the weather pattern was completely different than from what they expected with snow squalls in the middle of July! 
"
New Jersey shaped who and what I am. Growing up in Jersey gave you all the advantages of New York, but you were in its shadow. Anyone who's come from here will tell you that same story."
— Jon Bon Jovi, American Singer
New Jersey is one state that caters to every season but is known for its Jersey Shore. I can attest to this statement, as a matter of fact, considering that I was born here! Some of my most memorable summers were spent at the Jersey Shore. My grandparents had a beach house and I always looked forward to crabbing on the lagoon, waiting for a Blue Crab to cross my path, walking on the sandy beaches at Barnegat Bay Beach, and going to Long Beach Island to peruse
the different shops and amenities like the B&B stores and Fantasy Island. I was fascinated by the simple pleasures of waking up to a glistening hue of sunshine and the glimmering water every morning. A little smile formed upon my face from smelling the salty air and feeling the gentle ocean breeze glaze over my skin. This truly felt like paradise. Looking back on it now, I can appreciate that so many of my life experiences took place at the shore, embodied by the little adventures. I remember I was intrigued by even going to the stores in the local area, simply because it was different. Insignificant errands became my small adventures every time, since those stores were more unique than the ones I knew from back home in northern New Jersey. Difference has always appealed to me in terms of adventure, which did not stop at the Jersey Shore. I vividly remember visiting Lucy the Elephant, an astonishing 65 foot tall elephant statue that my dad and I stood at the top of! Who knew that I could say that I have stood on top of an elephant?
The trip to New Mexico has not been fulfilled yet.
"
Now you're in New York / These streets will make you feel brand new / Big lights will inspire you."
My most recent visit to New York was last year on a field trip to the MET Cloisters Museum! My friend Julie and I took advantage of this opportunity that offered an enriching historical experience along with a renewed appreciation for a new type of aesthetic, one that is usually hidden from the towering buildings that stretch to infinity and the crowded streets of New York City. I was caught by surprise when we approached the entrance to the Romanesque-style Cloisters Museum primarily made of stone, a hidden gem in Washington Heights that I never knew existed. It was intriguing to find a historical collection that was dedicated to the celebration of European Medieval art and architecture. Although I have not seen this form of art too often, visiting the Cloisters as an artist expanded my horizons and artistic background. For someone who also enjoys a reflective experience, the MET Cloisters had a picturesque garden that housed all types of flowers and trees. The garden reminded me of a peaceful monastery as the Cloisters placed an emphasis on meditation. As small leaflings from the bushes brushed up against my leg, I grew admirable of the tranquility the garden offered. Interestingly enough, there was even a café that made for a perfect scene. We walked farther out from the garden and saw people walking below us in all directions, taking it all in. When we were on the trail, though, a spotted sparrow swept extremely close to our heads, which made me jump!
"
There's no place like North Carolina (a.k.a. home)."
— Unknown
Visiting North Carolina enhanced my understanding of American history tremendously. It offers a learning experience for people of all ages, especially at the Wright Brothers National Memorial in Kill Devil Hills, North Carolina. The National Park granted me insight into how Wilbur and Orville Wright taught the world to fly the friendly skies! My fascination with airplanes, which I tended to only recognize while onboard a plane, was reawakened within me. On December 17, 1903, they achieved the world's first successful flight and set the aeronautical industry, figuratively and literally, in flight! Staring at the model of the airplane invoked a sense of pride for the renowned engineers' dedication to engineering. Whenever you find yourself onboard an airplane, remember that Wilbur and Orville Wright made it all possible!
"
I played as much golf as I could in North Dakota, but summer up there is pretty short […]."
— Mike Morley, former American Professional Golfer
Our day in North Dakota encapsulated one of the most empowering things that I have ever done: pumping gas! In North Dakota, among most other states, self-service is the only way to pump gas. Although I initially learned in Rapid City, South Dakota, I applied those "acquired skills" at the Bowman Gas Station. As a young woman, I am proud that I know how to pump gas and I remember volunteering myself to do so at every gas station in each state on our road trip! In Bowman, North Dakota, there was a slight breeze in the summer sunlight that beamed directly on the rolls of hay laying on the grassy land for miles. Speaking of hay, an average roll of hay was almost 5 feet 7 inches tall (nearly as tall as me!).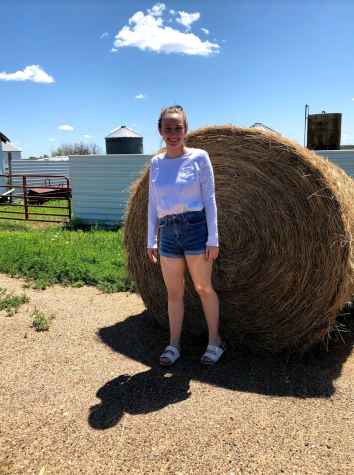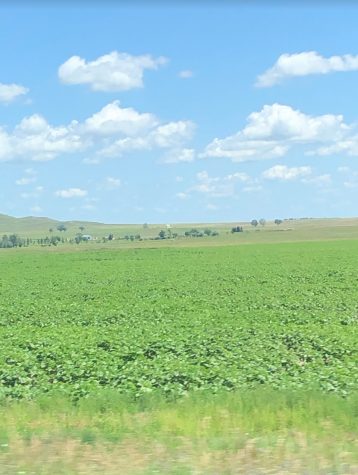 Please share our stories: