Harry Styles Challenges Masculinity in Vogue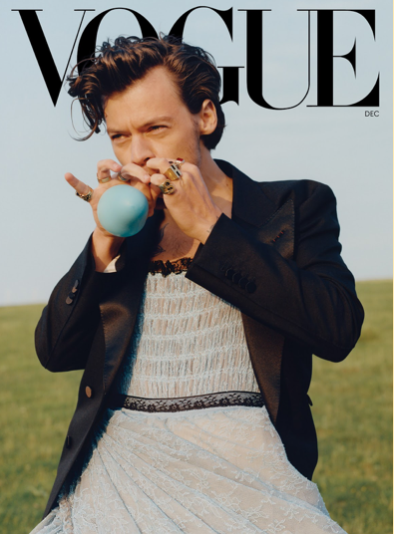 Vogue's December issue puts Harry Styles, former member of British pop band One Direction and new solo artist with two albums, on the map as the first male on the cover of Vogue to be pictured alone since its creation in 1892. 
Not only was Styles' the first male on the cover, he also was wearing a dress. Many came forth to express their disdain. Two prime examples are Ben Shapiro and Candace Owens, calling people out for their support of Harry, shutting down how people find it attractive. Specifically, Owens tweets: "Bring back manly men." 
Styles' has always been one to push the limits on traditional clothing, adding a little jazz to all of his outfits. His partnership with Gucci has provided him with a new colorful suit for each appearance he makes, and he has a different style each time he enters a new era –definitely separating him from his days of wearing skinny jeans and t-shirts. The full periwinkle gown with a black suit jacket is no exception. It is no surprise that it was Harry people were going to have a problem with relative to his clothing choices, considering the bold outfits he has worn before.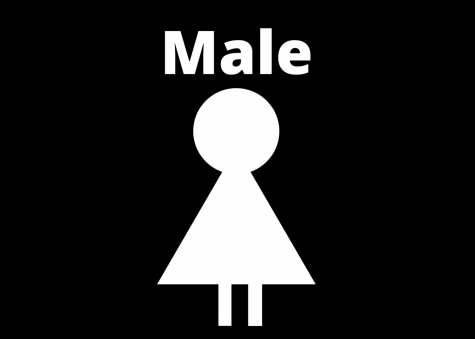 The debate on masculinity and where lines are drawn appear to be different for everyone; however, it does not stop anyone from sharing their opinions. The femininity of men, including cross dressing, gender fluidity, and non-binary exploration, is popular among younger generations, who are starting early to dismantle the idea of toxic masculinity, the concept of fulfilling gender roles, and the concept of exclusive gender identification itself. Toxic masculinity is often defined as the adherence to traditional male gender roles combined with stigmatizing men and limiting boys to these roles. This resulting in a lack of emotional growth for boys and a loss of opportunities to them if these opportunities would usually be considered feminine.
Where it might be easier for women to push the boundaries with clothing (because many times that is what is expected of them), men are are also constantly defined by what they wear and are frequently judged for it. For many, the prominent traits, clothing choices, and actions must fit in with the traditional male view, usually defined as dominance. 
"
Barriers only limit oneself, and it continues to prove true in the aspect of clothing."
In his Vogue interview, Styles discusses breaking the boundaries of fashion, saying that clothes are perfect for experimentation and are made to have fun with. Barriers only limit oneself, and it continues to prove true in the aspect of clothing. Having a role model like Harry Styles is good for the younger generation to realize that the world is what they make it. Boundaries can be pushed, one can be who they want to be, and never fear being judged. 
Harry Styles responded on December 2, 2020 with a picture from a photoshoot with Variety for being named hitmaker of the year. It was a photo of Style's in a light blue suit with ruffle detailing captioned: "Bring Back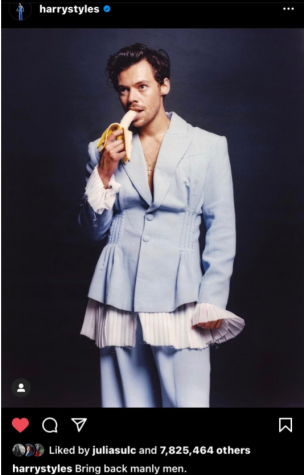 Manly Men."

To read the article on Vogue, look here: https://www.vogue.com/article/harry-styles-cover-december-2020
Please share our stories: