The Mount Reverts Back to Complete Remote Learning Following Thanksgiving Break
As Covid-19 cases are rising around the country and the holidays are predicted to only exacerbate the current infection and death rates according to experts, the Mount administration has made the decision to go completely virtual the weeks following Thanksgiving. This decision is not unique to our school though, as many schools across the country have a similar or more extreme plan in an attempt to control the rate at which Coronavirus cases are rising.
Some schools, specifically public schools, in the area have yet to return to in person following the initial lockdown in March such as the Montclair public schools. Private institutions such as MKA have chosen to test all of their students and faculty following Thanksgiving break and in doing so would continue school virtually the Monday and Tuesday following break. St. Peter's Prep, a Catholic institution, made the decision to begin remote learning the week of Thanksgiving break until January 18th. All three of these institutions are in the Mount's vicinity and all have sacrificed some version of in person school to keep students and faculty safe. Precautions such as these are necessary because many students have traveled to see family over this break, and putting students back in in-person school could cause an uptick in cases that would only add to the current surge in cases the country is facing.
Once this safety measure was sent out to the school community, students and faculty began to question whether or not the Mount would extend its complete transition to remote learning as cases will inevitably continue to rise around the holidays. St. Peter's Prep for example has already made the decision to continue remote learning through winter break. Over the weekend, those speculations were brought to a close when the Mount community was notified that complete remote learning would continue through to winter break.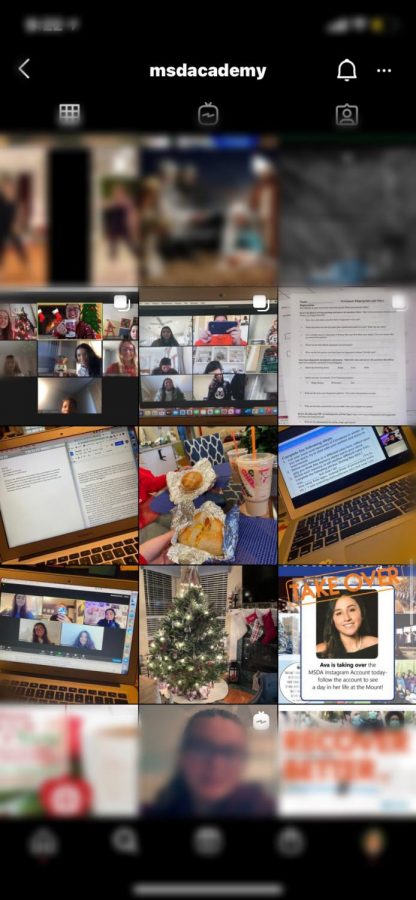 So far, our school has had a smooth transition into complete remote learning. Though for Cohort 3, this change is virtually imperceptible. Cohort 3 has been completely virtual since the start of this school year so this change really only affects the students in Cohort 1 and 2, who, in the hybrid model, attend school in person two days a week. 
Learning online continues to be difficult for students regardless of their familiarity with it though as multiple studies have shown the draining and debilitating nature of being on Zoom for an extended period of time. Ideas.TED.com, associated with TED Talks, featured an article written by Libby Sander and Oliver Bauman that answers many questions people have regarding the effects of Zoom on our mental and physical health. They explain the negative effects of missing out on non-verbal communication and the Zoom fatigue. They also explain the "cognitive scaffold" Zoom meetings create. 
Even though complete remote learning is a necessary precaution to protect our community and could possibly be even further extended into the later winter months, there are many consequences to remote learning that everyone in our community has to cope and adapt to.
Please share our stories: