Mask On: The New Lifestyle of High School Sports in the Midst of a Worldwide Pandemic: The Fall Season
Despite all the precautions taken prior by all high schools, student athletes' concerns about loss of playing time during COVID-19 remain high as most schools are going remote and cases are rising. No one knew how all of this would affect high school sports.  In a normal season, any fall sports preseason would begin mid-summer, but this year all sports other than tennis didn't start until September 14th in the state of New Jersey. The New Jersey State Interscholastic Athletic Association (NJSIAA) set the season in place from 14th of September to the 22nd of November which is much later as well, creating a lot of problems for not only the players but the schools. The season also got very cold very fast, and there were a lot of restrictions based on COVID-19. Schools are now required to take temperatures before practices and games, players must wear masks coming on and off the field as well as on the bench during games, and coaches must wear masks at all times. Not only are players and coaches following strict guidelines, there are now many rules for spectators, depending on the school. While some schools would allow only a certain amount of spectators, all with masks and six feet apart, there are some schools that would not allow any spectators at all.
I had the opportunity to sit down with Mr. Sozio, the athletic director at MSDA, to get insight on what it's like to oversee all of the sports with the new guidelines. He stated "with covid [we were] obviously making sure that our coaches were to perform the screening at each practice, taking the temperature checks" and following all guidelines. All of this is known to the athletes and many of the students as well, but there is a lot more that goes on behind the scenes that everyone does not see. One difficulty for planning is the hybrid schedule on game days. Mr. Sozio explained, "Each game that we had, we had to figure out who needed more time to get to Mount St. Dominic or who needed more time to get to our opponent." Then he would have to let teachers and students know the different dismissal times. Normally, players would all be at school and would all be accounted for and dismissed at the same time. This year, half of the school is in person while the other half is at home. Mr Sozio remains positive about the future of Mount Sports and continues to look for positivity during these dark times!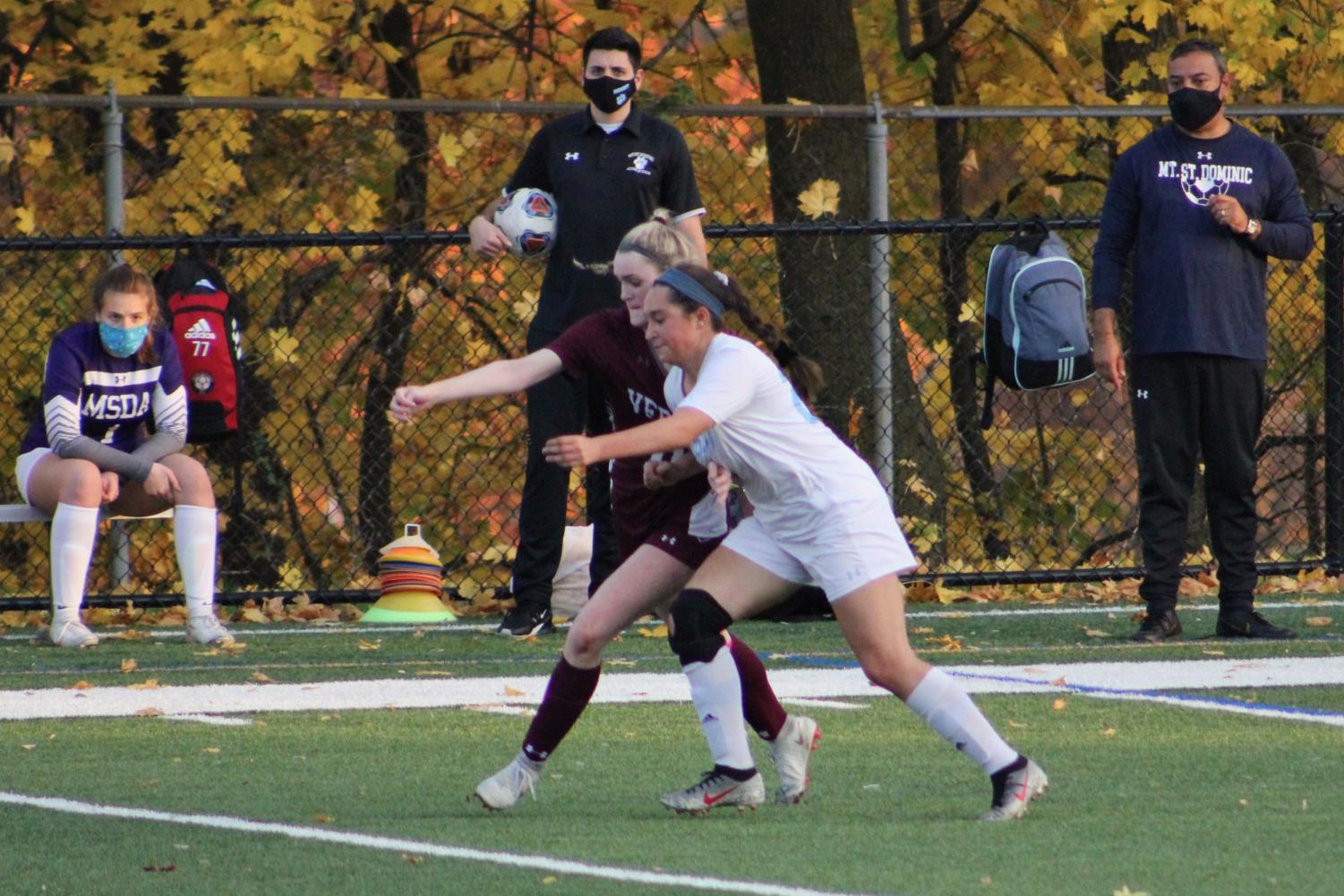 These new rules and guidelines have changed the student athlete's experience. In the past, students were able to have true bonding moments and get-togethers where they truly became a team. This year, unfortunately that cannot happen which takes a toll on the student athletes. Clare Mulvihill '21, a four year Varsity soccer player and the captain of the 2020-2021 soccer season at the Mount discussed the changes that occurred this season. She said, "This season, it's definitely been very uncertain. In seasons past, I've known for sure that we were going to have a season and that we were going to have games." She continued by saying that she was unsure of this season because she had heard of so many schools having games cancelled. Not only does Clare play high school soccer, she also plays on a club soccer team. She was worried about cancellations for both teams. Clare also reflected upon the new spectator rules and the stress that it caused. "I think that's [Covid] had a really big impact, not only on the parents who are watching, but also the players. You want your parents to be at these games because you love seeing them watch you play. She continued, "I know from my experience in my last high school game that my parents couldn't even come into the stands and watch me play." 
The Mount is lucky enough to have a small school with a safe environment, and people who take these precautions seriously. Thankfully all fall sports were able to finish with a complete season at the Mount, unfortunately indoor winter sports were recently suspended as of Monday, November 30th until January 2nd.
Please share our stories:
Leave a Comment