The Meaning of Christmas in 2020
"
Have yourself a merry little Christmas, Let your heart be light."
— Have Yourself a Merry Little Christmas, written by Hugh Martin
Personally, Christmas is my favorite time of the year. The cheerful spirits singing Christmas carols all around, the beautiful Christmas lights that light up the streets in the darkest hours of the night, and the joy and happiness that seems to radiate off of every individual. During Christmas time, my family and I have many traditions such as going into New York City and watching the Radio City Christmas Spectacular Show then going to take the infamous Christmas picture in front of the Rockefeller Center Christmas tree and closing the night by going to my family's favorite restaurant, Patsy's. On Christmas day, my family and I will drive to my Aunt's house where my cousins and I will have a gingerbread building competition. These traditions make Christmas time so exciting and special. People are brought together during this time of giving and share the joy that Christmas brings.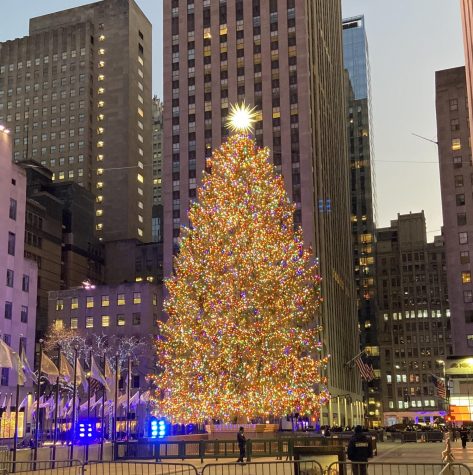 Unfortunately, the world is still in the middle of a global pandemic of the coronavirus. During the Thanksgiving holidays, families across the world were unable to see each other in person and give thanks as a family. Continually, people are unable to see their families and are forced to stay inside which denies many families the ability to carry out their annual Christmas traditions. Instead of the joy and connectivity that Christmas normally brings, people have been experiencing much separation and negativity during this holiday season. 
However, Christmas is a time of joy, giving and love and many people want to keep that feeling alive even under the current circumstances. As early as September, singers were releasing new Christmas music in hopes to spread some holiday cheer. On October 29, the Jonas Brothers, American sibling pop band, posted an Instagram photo from when they were children during Christmas time and the caption read, "With having such a crazy year, we all really need something to look forward to… the Holidays is a time that brings us together and is something that brings us joy in the darkest of times." This was their announcement for their new song "I Need you Christmas." Many other artists also released new Christmas music early this season such as Shawn Mendes and Camila Cabello, Carrie Underwood, Tori Kelly and even Dolly Parton. 
"
From now on, our troubles will be out of sight."
— Have Yourself a Merry Little Christmas, written by Hugh Martin
Although 2020 may not have been the year we all expected, I believe it made us more aware of everything and everyone in our lives and allowed us to grow closer to one another. For example, a couple of weeks ago my mom went to Trader Joe's and accidentally forgot her wallet at home. She was trying to call my brother to drop off money since he was already out near the store. As she was on the phone trying to figure out what to do, the cashier began bagging up my mom's groceries. My mom looked over and the woman said, "Merry Christmas from Trader Joe's" My mom was speechless, she could not believe the kindness and generosity that this woman was portraying. My mom expressed her unconditional gratitude and ran home to tell my family and I this amazing story. "She made my entire day," exclaimed my mom as she walked us through this event with the biggest smile on her face. "See, there is still good in this world," my mom added. It is times like these, a small random act of kindness, that prove the hope and faith that lies within humanity. 

The next day, my mom took another trip to Trader Joe's to give this kind woman a present for her 5-year-old daughter. The woman began to cry as she too was so moved by such a small random of kindness and gratitude. 
Christmas is a time of giving. Christmas is a time where we show our gratitude and love towards the special people in our lives. Christmas is a time filled with joy and cheer and light. Although 2020 has introduced an immense amount of negativity, loss and a sense of darkness that seems to mask all of the good, Christmas is here to bring all of the light back. This Christmas may seem different but it is also serving as a gift of hope, light, faith and love. 
"
Faithful friends who are dear to us, Gather near to us, once more"
— Have Yourself a Merry Little Christmas, written by Hugh Martin
Please share our stories:
Leave a Comment