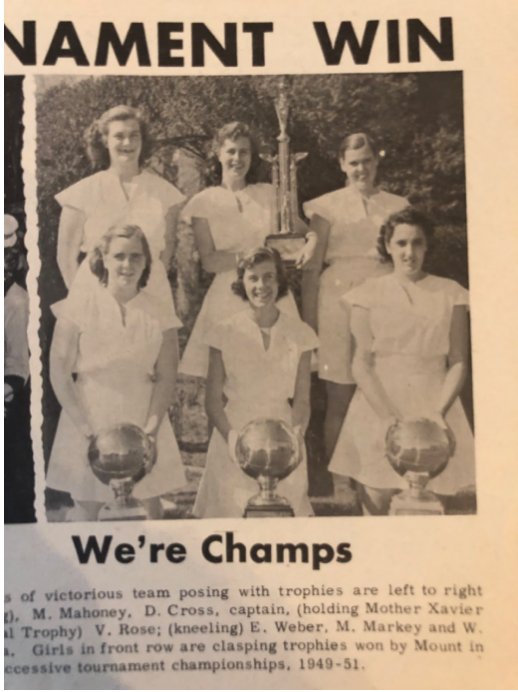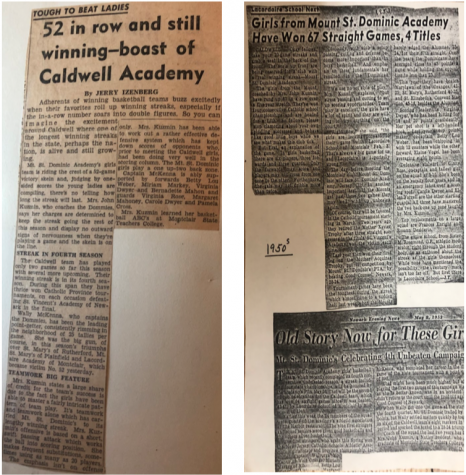 This spring marks 70 years since Mount Saint Dominic Academy won the NJ Basketball State Championship for the third year in a row. Many years ago, MSDA was a force to be reckoned with when it came to basketball – and everybody knew it. The Mount games became a popular spectacle among locals who came from all over the county to watch our girls play. The squad, dubbed "the team of the century" by a local reporter, frequently made headlines like those to the left from 1950, '52, and '53.
All of these articles reflect a fascination with the talent and tenacity of these Lady Lions of the 50's; and not only that, but their remarkable record as well. Jerry Izenberg, one such reporter, wrote: "…So you can imagine the excitement around Caldwell where one of the longest winning streaks in the state, perhaps nation, is alive and still growing." At that time, he was referring to a 52-game winning streak. This would grow to an 80-game winning streak spanning five years by 1953. Five years of State Championships, undefeated tournaments, and athletic excellence proving that women's basketball could be just as entertaining as men's. This team was the talk of the town in the early 50's, so let's look at some experiences and archived articles from these past Mounties.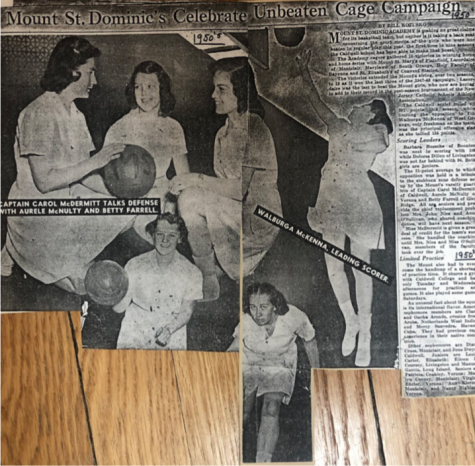 Here at the Mount, we value sisterhood and our strong connection to the past. I feel particularly connected to this remarkable story because 70 years ago my grandmother was one of  the "Dwyer sisters:" three girls who were members of the team and played in many state championships. They played together for several years and were always an unstoppable trio. The best part? They were real-life sisters. 
My Nana, June Dwyer (class of '52) would tell me these stories about her time on the team – some of her most cherished memories with her sisters. This team was, and remains to be, a remarkable story.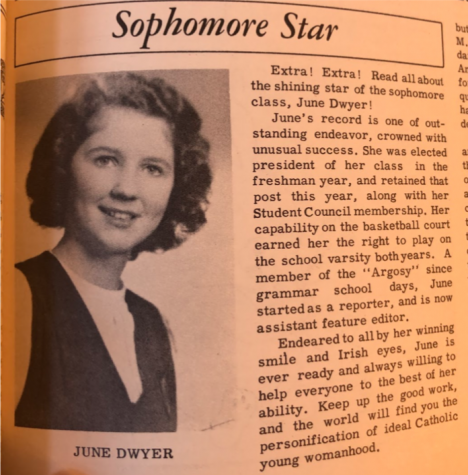 In honor of the 70th anniversary of "the team of the century", I caught up with my great aunt Carole Collins (formerly known as Carole Dwyer) class of '53 to discuss her incredible experience. 
"I didn't like Tuesdays and Thursdays so much," Carole says with a laugh, "We practiced Monday, Wednesday, Friday and I was always much happier on those days."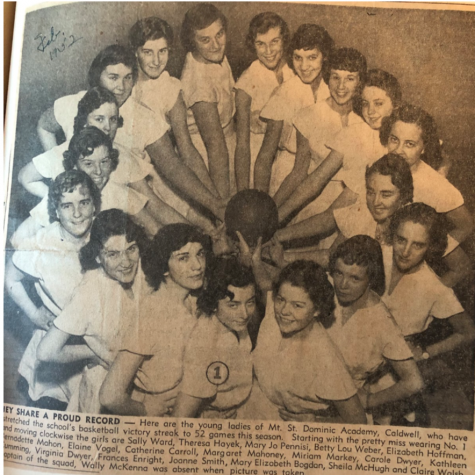 She and her older sister June were guards on the basketball team. "In those days, guards were more like defense (in soccer)," Carole explains, "guards weren't allowed to cross the half court line or shoot. We stayed back and waited to defend our hoop, the other girls waited to defend theirs." Carole and June had a younger sister named Virginia "Ginny" Dwyer (seen with Carole and the '53 team). Ginny was a forward and an excellent shooter. Carole tells me: "My senior year [which was] Ginny's junior year, she was our top scorer. After I left, she had one game where she scored 50 points!"
Carole also spoke of her coach: Mrs Cuzman: "She coached after my freshman year. She was quieter than our old coach, but she was a great coach." She laughed saying: "Mrs Cuzman was married to a retired MLB player so naturally we were all very impressed." This coach must have been incredible because she led those girls through a remarkable few seasons. Her predecessor may have won two back-to-back championships, but it was with Cuzman that the Lady Lions truly soared. Carol marvels at how she never saw a single loss her entire high school career. "We had an 80-game winning streak that included four state championships; but it was game 81 that I will never forget." She speaks of course, of the 81st game of the MSDA winning streak: the 1953 state championship. "It was a tough game," Carole continues, "when the final whistle blew we were ahead by two points." As it turned out, the score keeper had, in all the excitement, miscounted. "They brought out the priest who ran the league and eventually they decided that we would be co-champions…and that was the end of our winning streak." Needless to say "we all felt very bad for our friend who had been keeping the score."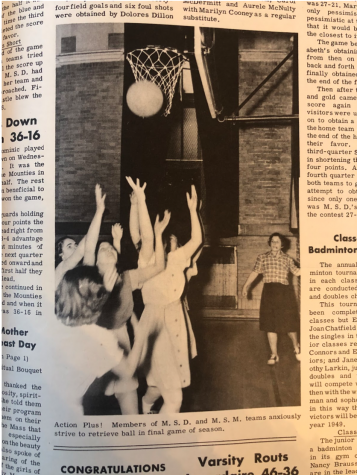 Before the co-championship her senior year, Carole and her sisters collectively played every game of the 80-game winning streak. She and I discussed her other teammates, particularly senior captains: Betty Lou Webber and Ginny Rose. She also spoke of a player named Walburga Mckenna (pictured in an article screenshot earlier). "Mckenna played like a boy," Carole explains, "She was absolutely fabulous."
In the championship game back in 1952, Mckenna was benched following a surgery to remove her appendix weeks earlier. At the half, the Mount was well behind and needed their secret weapon. "I'm not sure how she did it, but Coach got permission from someone and they put Mckenna in. She won us the game."
When asked what her favorite memory from her time on the team was Carole says she cannot choose. "It was all so wonderful." 70 years ago, from 1949-53, in what is now the Doris M. Byrne Performing Arts Center, the lady lions ruled NJ basketball – a legacy that will stand the test of time.