Mount Seniors Reflect Innovative Entrepreneurship At LionWorks Competition
On February 16, 2021, seventeen MSDA seniors participated in the first ever LionWorks Competition at the Mount! This entrepreneurial competition is a facet of the Mount's "L.E.O" Program, spearheaded and directed by MSDA's very own Mrs. Victori. But what is the L.E.O. Program? The L.E.O. Program is a two-year long business program at MSDA, which highlights the elements of leadership, entrepreneurship and opportunities, and is sponsored by the Leonidas Foundation. This foundation was founded in 2016 in the memory of Leo Vagias, for the purpose to foster the success of academic programs, and all that the foundation does to help people in need, is in Leo's honor and memory.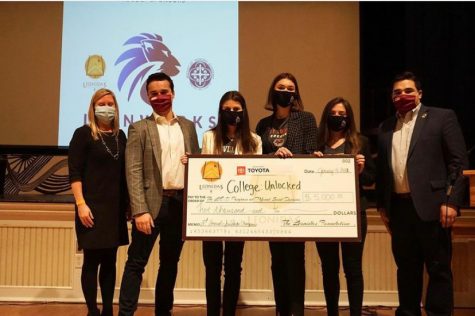 The seventeen students were divided into four groups, each tasked with creating a unique and innovative start-up project, which was then developed and presented at the LionWorks Competition last Tuesday. Following the two years of incredible hard work by these MSDA students, this entrepreneurship competition—stylistically similar to the popular business T.V. show "Shark Tank"—represents a true peak of this great program.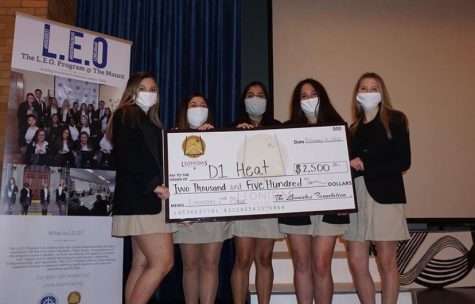 The four groups consisted of: "College:Unlocked" (Catherine Browne, Sophia Garske, Kaitlyn Hladik, Isabella Vescera), "D1 Heat" (Brynn Caulfield, Elizabeth Conti, Candice Davila, Hema Devalla,  Elisabeth Prioletti), "Bigger Buck$" (Ava Lukowiak, Julia Rodano, Isabel Taffet, Lia Tortoriello), and "Charcuterie Chix" (Theodora Exilus, Patty Ann Forsythe, Katerina Holevas, Renee Schuldiner). Each of these group projects brought something different and entirely unique to the table. "College:Unlocked" presents a new app, designed to help high school seniors with the college admissions process. "D1 Heat" offers slim, flexible, stick on hand warmers to aid in cold weather. "Bigger Buck$" is also an app, this one meant to help young people—high school and college students specifically—to learn how to manage and save their money and invest in stocks. Finally, "Charcuterie Chix" is a company that makes, designs and delivers delicious charcuterie boards from an entirely female owned and operated business.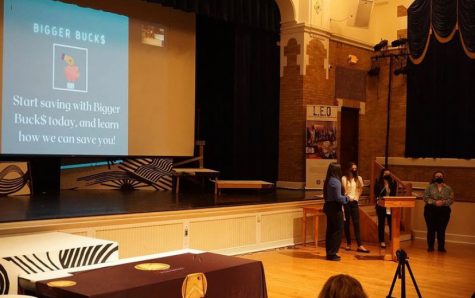 Each group was designated 10 minutes for their presentations to the panel of judges, followed by a 10 minute judge directed question and answer period for each group to further explain their projects/business start-ups. This section of the competition concluded with an announcement of the first and second prize winners. The first place team would share a $5,000 scholarship prize amongst the respective team members and the second place team would receive $2,500 in scholarship money to again be shared amongst its group members. Together with the Leonidas Foundation, the very generous prize totaling $7,500 was sponsored by Toyota North America and presented by Briana Nelson, General Manager at Toyota North America. Nelson was also one of the esteemed judges on the panel.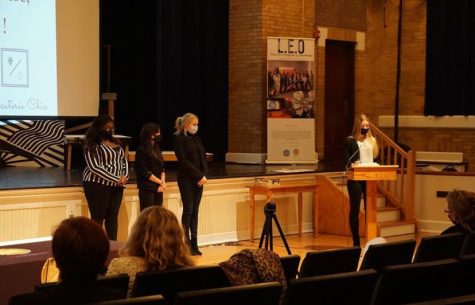 After the judges deliberation,"College:Unlocked" (Catherine Browne, Sophia Garske, Kaitlyn Hladik, Isabella Vescera) took first place. "D1 Heat" (Brynn Caulfield, Elizabeth Conti, Candice Davila, Hema Devalla,  Elisabeth Prioletti) took home second prize. All of the incredible groups were formally recognized and praised for their success, innovation and hard work.
The L.E.O program—particularly through the exciting events of this LionWorks Competition was a massive success at the Mount and it wonderfully displays MSDA's academic innovation, pride in their students success and their unwavering dedication to the future women leaders of tomorrow.
Please share our stories:
Leave a Comment