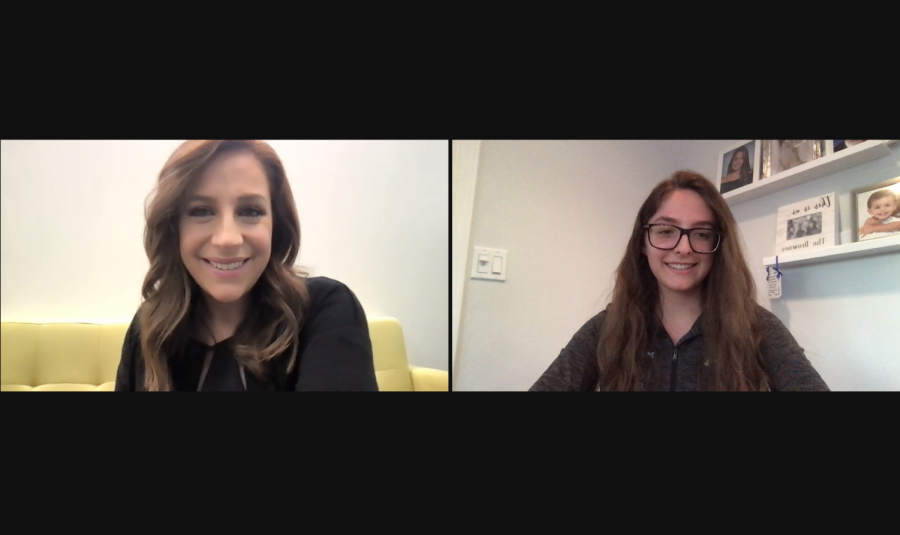 Does the name Teresa Priolo sound familiar to you? Well, you may recognize it from the friendly face you see on FOX 5 News. However, she is also closely related to the Mount as she is a member of the graduating class of 2001. Mrs. Priolo is a local General Assignment Reporter and Anchor for FOX 5 News. Mrs. Croarkin's Journalism class had the pleasure of meeting with her via Zoom and learning about her career in Journalism. Personally, I had the honor of sitting down with her one and one, also via Zoom, and had a delightful conversation about the Mount, her Journalism career and her advice to young Mounties, like myself. 
Prior to our interview, I got a hold of Mrs. Priolo's senior yearbook and found that she was very involved as a student. Throughout her senior year of high school she was a member of the student council, peer leadership, and the ambassadors club; she was also the Senior Editor for the Lumen, a lector, a member of the ski club, a manager for the swim team and she was even voted most likely to marry a millionaire! Although this already seems like a plethora of activities, Mrs. Priolo shared that she looks back and believes that she probably could have gotten even more involved since she always felt like the Mount gave her the space to do anything she desired. Mrs. Priolo shared that "[she] felt like when [she] got [to the Mount] there was a plate put in front of [her] and someone [could have said], 'Fill it up! What do you want to do? Do it all. Do nothing. Do everything. It's all on you.'" 
We spoke a lot about how the Mount prepared her for her career as a reporter. The Mount opened the door to many opportunities which allowed her to go off to college and into the real world "with the confidence to try anything [and] to do anything." She felt that she attended a high school where she could be herself and attain a well rounded liberal arts education which allowed her to find the areas that she was most passionate about and could succeed the most in. "[The Mount] allowed [her] to be whoever [she] was going to be."
Mrs. Priolo continued to reminisce about all of the memories she created at the Mount. When I asked her what her favorite memory of the Mount was, she struggled trying to pick just one. She wanted to call her best friend from the Mount and pick her brain for her favorite parts of high school. I was very touched to hear that her best friend from the Mount is still her best friend to this day- they were the Matron of Honor in each other's weddings and are the godmothers to each other's children. One of her most outstanding moments from high school is from her experience in the Mount's production of Bye Bye Birdie and the memories she made auditioning and casting a role. Additionally, Mrs. Priolo is one of the original minds that proposed the idea to decorate the senior bathroom. 
I was very interested to hear about her journey throughout the world of journalism and local news. As a reporter, she is "free to cover any story that comes up" no matter the type of story: investigative, health, crime, etc. Specific to local news, she needs to react to the events that occur each day. Mrs. Priolo shared that the pandemic has introduced more challenges to connect with people via Zoom and it created limitations with sending a photographer or videographer to a scene and capture footage.  
Mrs. Priolo gave some advice to current Mount students, like myself, about her field of work. She said, "so you are a group of intelligent women. It is your job to actively seek out the truth. It is what I am paid to do but truthfully it is everyone's responsibility to go and find accurate sources of information [and] accurate data, and spread that. (…) Be the antidote to all of the misinformation that's out there. There are a lot of people who do not have the resources and the access that we do. […] I believe we need to use that to our benefit and spread that and help people [by] educat[ing] them. I think that is something that everybody should do whether or not you consider yourself a journalist." Mrs. Priolo believes that with all of the misinformation that is present we sometimes have a difficult time understanding "what is factual, what is proven and what is not." Mrs. Priolo continues, "In my mind, that is a responsibility of society as a whole to fight against misinformation."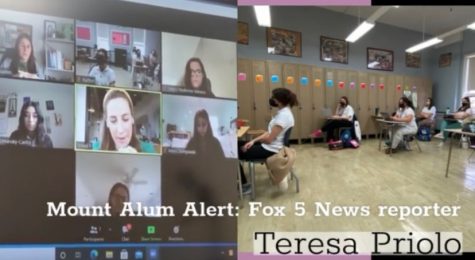 Mrs. Priolo also wants everyone to know that anyone with a cellphone social media account or a youtube channel is a citizen journalist. Furthermore, she encourages Mount students to act responsibly on social media and the message we share because "that message will be picked up. You don't know whose life you can change. You don't know what kind of good you can do. So it's a responsibility that you should take seriously [because] what you put out there in the world matters because it feeds into a greater conversation." She spoke to the impact that social media has on our world today and how the generations of girls currently attending the Mount, have the power to spread a positive message and add to the movement of true information, rather than spreading misinformation. 
Mrs. Priolo also wants to break the generalized misconceptions that all employees for a specific organization share the same beliefs. "I am there to call balls and strikes," she states. "What I try to do on a daily basis is to keep my personal opinion out of and it's just about what is fact based- what could be backed up and what can't be." As a reporter, Mrs. Priolo works to share the concrete facts of the world we live in. Unfortunately, that may not always be the case which is why she encourages people to better inform themselves on current events worldwide through various news stories that can be found in newspapers, on television, on radio and even on podcasts. She reminds us of our own responsibility as citizens to educate ourselves and learn the factual based truth. As Mrs. Priolo spoke to some of the misconceptions within journalism, she also shared that journalism is a "calling" and her passion for spreading the truth and informing others makes it all worth it. 
She left me with one final quote that a news director from her first on air job shared with her, "If your mother says she loves you, check it out." This is a slogan that was created out of a Chicago newsroom back in the 1970s, and it speaks to the fact that you should always double source a piece of information. Put in the research and fine reliable sources to support it. 
My conversation with Mrs. Priolo was not only very informative, it also opened my eyes to the insights within the journalism world. I really enjoyed hearing about her life changing experience coming to the Mount and updating her on all of the ways the Mount has evolved since she has graduated. Her kindness and passion for her occupation was evident. I am honored to have gotten this opportunity to form a new connection and to speak to Mrs. Priolo as she shared much insight and on a potential career path of mine.