My Advice To Underclassmen
Time flies. High school is almost over. Even though in the grand scheme of things it is a small part of our lives, these are our formative years and every moment counts. We should appreciate the time that we have and not spend too much time just waiting on the future. After four great years, I learned a lot of things along the way. Here are a few I think are important to share. 
1. Sing
I am NOT a good singer, but that doesn't mean I can't sing. Take part in the alma mater, it connects us to all the Mounties that had to sing it prior to every prayer service, graduation or any gathering. Make prayer services more interactive by taking part in the songs that they put on the screen. Hum them even. Once you start, so will the girl next to you, and then the one after that. Soon, the services will be even more powerful. 
2. Take Classes You are Interested In
Of course we have to take math and english courses, but find at least one class a year that will push you. Whether it be the L.E.O. program that will aid you in figuring out whether or not you want to pursue business or the photography course, find something that really makes you happy so the days become slightly better. Even if you can't fit it into your schedule, find something in each class that gets you excited to learn!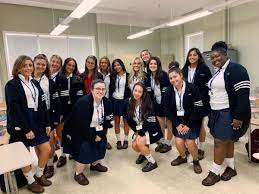 3. Try Something New (All of the Time)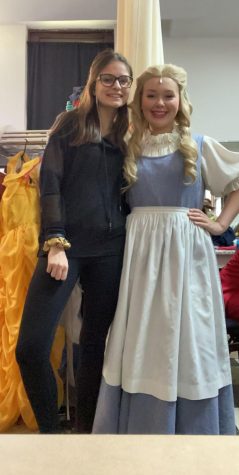 Whether it be a sport or performing or tech crew, push yourself. You might hate it, or you might love it. Either way, you'll know something new and it might change your perspective. I would never have expected to play four years of a varsity sport. I am lucky I did, because I met my best friend. I would never have realized I was not a basketball player or meet a senior who changed my life that doesn't even know it because of track. I did not think I would end up back stage for the production of Beauty and the Beast, in the PAC until late hours of the night and then be nominated for a Foxy Award a year later for hair and makeup.

4. Smile As You Pass
A smile and a wave have pushed me to get through so many days here. Especially if you are an upperclassmen waving to someone younger. That always gave me the feeling that this was a community and that I belonged to. Also, you never know what anyone is going through, help people out.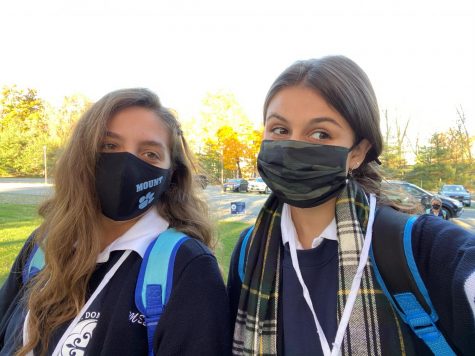 5. Hold the Door
It might make you a second late or separate from the group you're walking with, but it is a great conversation starter. Even if it's just a hi or thank you, you talked to someone new! Figure out what class they're going to, maybe you're walking in the same direction. 
6. Participate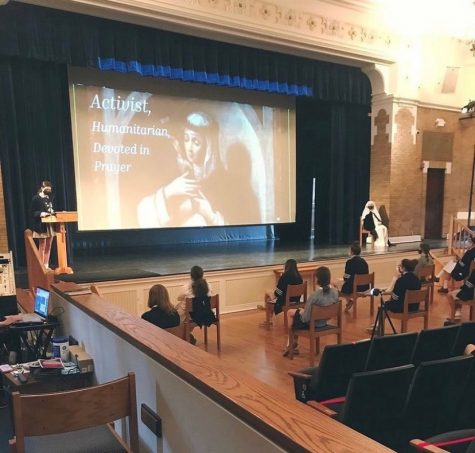 Prayer services and special days become 10000x more interesting when you're a part of them. It also introduces you to a lot of people, builds your resume, and might spark a new interest. Even clubs give you something to do to stay connected to the school. Remember, you don't just go here for academics. High school is so much more than that, make sure you make your time worth it.
7. Build Relationships
Sit with someone new at lunch. Talk to teachers. Hang out with the freshman that made varsity. Offer someone a ride home. Ask someone new to walk to Dunkin Donuts with you. Invite anyone around you into your timer cam selfie. You'll be much happier if you are surrounded by people that all love you for who you are. You'll enjoy a teachers class if you are more friendly and it might be easier to ask for help. You'll never be alone at lunch. You'll have lots of people to celebrate with once you commit to college.
8. Write, Take Pictures, Reflect
My favorite activity when I am feeling nostalgic is going through my snapchat memories. It is one way to make the most of everything you do and remind you of all the wonderful happy moments. Write, too. Write things down in a journal, actually use the time in religion to reflect. It will center you and make you happy to have something tangible when you are older. Submit to the Golden Fleece or write for the Argosy. You'll see your style change, be able to look back, and have another easy way to participate. 
9. Attend Events, especially Kairos
Go to the family picnic every year or the pink mass. Never skip Justice Day or an assembly. Do not pass up on retreats (and try to make the most of them). Go on Kairos. Try to go to a preaching conference or on a mission trip. Every day changes you just a little bit. You will never know what happens. I know I would not be the person I am today if I didn't have these little special days that might seem unimportant, especially Kairos. I had the amazing opportunity to go twice and it completely guides my life. I grew in my faith, I tested my boundaries, I made new bonds, I learned about myself. I put myself out there and I learned to love and be loved. It's things like this that the Mount offers that make our community special and life changing.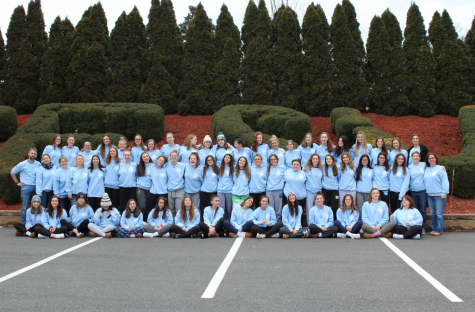 10. Love Where You Are
It might be hard some days. We all get disappointed when things don't unfold exactly how we want them to. It could be another door, or realistically, it could just be upsetting. Either way, make a conscious effort to enjoy your time. Complaining is understandable, but you will be so much happier if you roll with the punches and find the things you like. The Mount is a special place. It changes, but so does everything. Find a way to love it. Enjoy every second of every day. Yes, it is school, but it's so much more. It's a place to spend time with your friends. It's a place to find a family. It's a place to learn and discover. It's a place to grow. It's a place to perform and compete. It's a place that fosters community service and gives back. It's a place to pray and reflect. It's a place to build your resume and prepare you for life. It's a place to love. 
Most important of all, ENERGY. You only get out what you put in. If you keep your head down, go through the motions, and don't give the experience anything, you'll just graduate high school. But if you really give it your all, put love and energy into what you do, experience everything, live to the fullest, you will have the time of your life. 
Please share our stories:
Leave a Comment