Mount Wins Again!
A warm Saturday night in May and the expectations were high for the Lions. Mount St. Dominic has been the defending Essex County champions for many years now, and the coaches made it apparent that the team was not going to let the pandemic stop them. The very talented pitcher, Sophia Kiseloski, kept cool and collected. "In all honesty, I didn't feel pressure at all. I had a lot of games just like this and they made me prepare for games in the future. I don't believe pressure affected my performance at all that night," she said. Kiseloski's performance was a large contribution to the Mount's victory seeing as the final score all came down to a few bad pitches in the bottom of the seventh inning.
"We were really nervous for a second because they (the Nutley team) ended up tying us in the top of the seventh," claims Sam Lopez, an outfielder for Mt. St. Dominic. By the bottom of the sixth inning, the Mount was winning by two runs, making the score 2-0. When Nutley caught up, it was almost too late.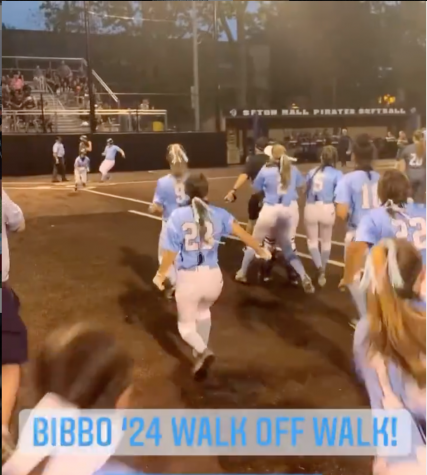 However, Mount was up to bat and the bases were loaded. Most of the players walked. "It was a really stressful moment, I think the pressure got to the pitcher (for Nutley) because she was not doing as well as she was the rest of the game," said one Mount parent who attended the game. And as fate would have it, the pitcher would be her own team's demise. One more person needed to walk for Mount St. Dominic to win the game, and that is what happened.  
Freshman, Olivia Bibbo was up to bat. "I was very nervous up there in the box, my heart was beating so fast!" She became the star of the team after four faulty pitches led her to become the component that finally won the game with the Mount beating Nutley by 1 run.
Besides the cheering that roared throughout the students, staff and families at our school, many other people have been participating in the commotion as well, including local news. Nj.com wrote an article about the Mount's win with Olivia Bibbo's name in the title. When asked about her experience being on the Mount softball team by the the press, she says, "At first I was startled by all the attention but now I feel great! And yes, I can't wait for the future."
Congratulations Lions!
Please share our stories:
Leave a Comment