Who Runs the World? Girls!
How the Mount celebrated the International Day of the Girl.
100%. That's the percentage of girls in the student body at Mount St. Dominic Academy. 100% of young women empowered to take chances, to take risks, and to be the change they want to see in the world. On Tuesday, October 12, the Mount, led by the Dominican Preachers, celebrated International Day of the Girl by reminding the Mount community of the plight of girls everywhere and the many difficulties young women face. Established by the United Nations General Assembly on December 19, 2011, International Day of the Girl Child recognizes girls' rights and the unique challenges girls face worldwide. Dominican Preachers at the Mount shared facts detailing just how difficult it is to be a girl in today's world, contributing facts that described how women and girls make up 60% of those considered chronically hungry. One of the announcements detailed how "girls make up most children denied schooling, coming in at ⅔ of the conglomerate of children." In low-income countries, for every 100 boys that continue their education after high school, only 55 girls do the same. Each served as a reminder of just how fortunate we are to exist in a space where being a girl is an empowering concept.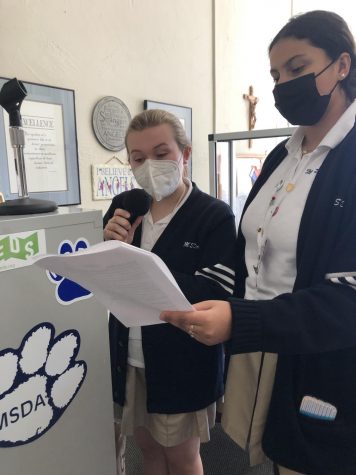 Please share our stories:
Leave a Comment