The Roar: Week of 11/1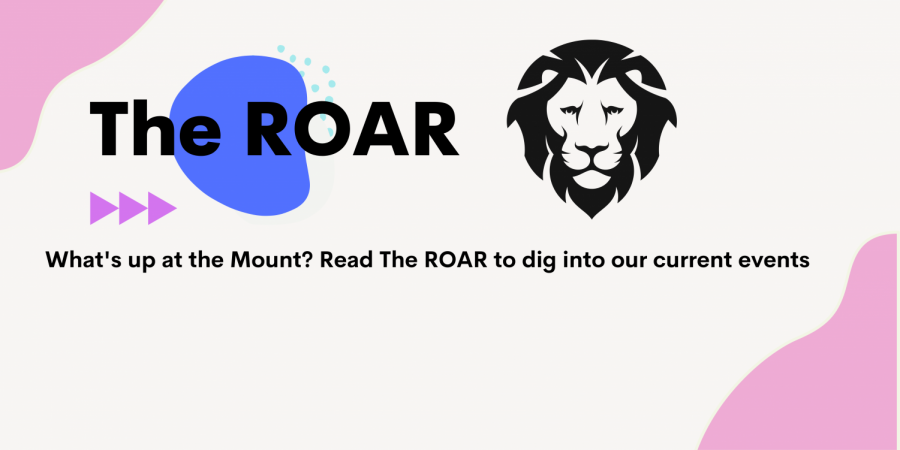 Welcome to another edition of The Roar! It's been a little while since we've chatted, but don't worry, I'll fill you in. 
Clubs and afterschool activities have begun this year with resounding success, with students joining clubs such as Yearbook, Key Club, and many others. Students have gotten involved in projects and made some great memories so far. For more about this, check out articles by Junior Staff-writers Juliana Laracca and Cecilia Russell.
Sports teams are performing well too! Read this article where Gianna Mangilli recounts the Mount Soccer team's recent win against Newark Academy.
The fall drama, "Letters to Sala" is coming together nicely, with roughly two weeks left until opening night. Recently, the cast had a zoom conference with the playwright, Arlene Hutton, and with Sala's daughter, Ann Kirschner.  Dr. Tornyova's Holocaust class was also invited to the meeting and the conversation. 
And, to bring awareness and celebrate survivors of breast cancer, the Mount just recently hosted its annual Pink Mass. The mass, officiated by Father Mike Hanly, former pastor of Our Lady of the Lake Parish in Verona, was beautiful, with many alumnae returning to give readings and honor victims. Moreover, the Mount has, as you all are aware, spent the past month with pink socks to celebrate Breast Cancer Awareness Month. 
The Mount's Halloween Spooktacular (if you'll forgive my informal phrasing) also went exceedingly well. Seniors showed great valor in costume creativity, and some teachers even went all out to celebrate. Check out our Halloween video on Instagram (msda_argosy) and give us a follow!
And on "The Argosy" we have had some really great stories you might have missed. If you were inspired by Harryweekend, or have FOMO, consider reading this article by Senior staff writer Gianna Mangilli. Or, to learn more about new members to our Mount family, read this article about Dr. Hampton, our new Campus Minister.  Keep an eye out for profiles on Ms. Hollenbaugh and some of our alumni. 
                                                                                                                                              Until next time Mount!
                                                                                                                                                                     Kaitlin Gibson'22
                                                                                                                                                                     Editor-in-Chief
P.S. If writing speaks to you, or you're interested in seeing your name in a nationally awarded literary magazine, consider submitting to the "Golden Fleece." If interested, fill it out here.
Please share our stories:
Leave a Comment