London: A Trip in Review
London, England was a place that I had only seen in movies. I watched as Harry Potter rode his broomstick across the River Thames and admired the lights of the many edifices that surrounded the London Bridge and Big Ben. London was a place that I only dreamed of being in, but just this past week, I actually got to live that reality. While the seniors this year ventured off to DisneyWorld to meet Mickey Mouse and spend some time in Cinderella's Castle, I was tucked away on a six and a half hour Redeye flight making my way across the Atlantic Ocean by myself. On the other side of that large ocean, my older sister – who currently attends Syracuse University- waited for me while she studied abroad in London to complete her studies as a part of the University's well-regarded study abroad program. The flight there was exhilarating, and trying to navigate London Heathrow Airport by myself was another adventure in itself, but little did I know the experiences that would make up the rest of my time there would leave me wanting more.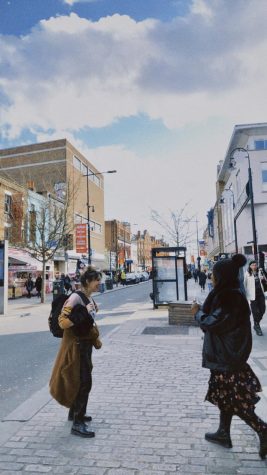 Camden Town: A far cry from Camden Township
Right after I settled into my sister's apartment, it was time for us to go on a smaller adventure that would also entail satisfying my hunger. In order to get anywhere in London, you have to know how to use the "tube"–  the Britishsubway. My sister first showed me this as we went to Camden Town, located in northwest London. It was very fun to get to know how Londoners travel and I was quite surprised to see how many people utilize public transportation there. Camden Town was very reminiscent of a quaint flea market. There were shops everywhere, all kinds of street food (that was extremely delicious), and loads of people making their way around. I loved the togetherness that Camden Town brought to me. Small business owners flooded the streets and everyone seemed to support each other in their cool findings. We visited vintage shops where I sought out unique pieces I wanted to add to my closet. I loved admiring the very European style buildings and the culture that Camden Town brought. Camden Town was very individualistic and was not like the other parts of London.
Oxford Circus: Its no joke
Though the name is silly, there is nothing short of sophistication in Oxford Circus. It is home to the shopping center of London where large stores such as H&M, Zara, All Saints, and many more are displayed across miles and miles of busy streets. This part of London is very similar to New York City. The buzz and the culture made me feel I was back home, and gave me the same feeling I get when I see the New York skyline. This was also where I saw the iconic double decker bus, a staple of movies set in London, which was very cool to see in real life. That day it was raining (my favorite kind of weather), and though my sister was wishing that she had brought an umbrella, I could not be more excited to have messed up my hair in a city that I never wanted to leave. The bright lights and window shopping made me want to stay forever. My favorite part about this day was going to a steakhouse called STK. This steakhouse was way too fancy for my sister, her roommates, and I to be in, but I will never forget it. The food there was beyond amazing and I desire nothing more in life than to eat the salmon, asparagus, and potato gnocchi every day.
Covent Garden: A lot more than just flowers
Covent Garden was easily my most favorite place in London and if anyone gave me the opportunity to move there right now and start over, I would. Covent Garden is full of character. The cobblestone streets and the quaint shops make it hard to not have a fun time. On most streets there are no cars, and I loved this because it gave more free range to walk and admire the architecture. There were so many things to do but I was definitely content with just walking around. The Saturday that I was there, my sister surprised me with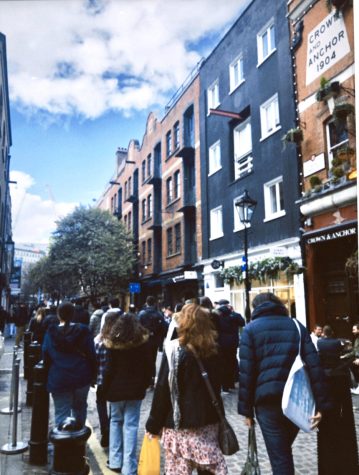 second row tickets to Dear Evan Hansen. The theater there was immaculate and although I saw the play once already on Broadway, this time there were tears on my face because of the raw emotion that was brought to the stage by the performers. The atmosphere in Covent Garden was like no other and I felt happiest while I was there. The shopping was plentiful and I made my way in and out of stores in search of things that I probably did not need. You can find a variety of restaurants there that range from different prices, but after a reservation mix up the night of the play, my sister and her roommates and I found ourselves in an upbeat Mexican restaurant that did not disappoint. That night we also went to an ice cream place called "Udderly Delicious" that had the best mint chocolate chip ice cream I had ever tasted. I chose to wear shoes that were not walking friendly, and although I was very uncomfortable and unhappy with my decision making, the ice cream made me feel much better.
Euston: Pronounced EW-stin
Euston is a neighborhood that I highly recommend to check out, as it certainly left an indelible mark on my trip. Euston is busy, but also very eloquent and quiet. You can find some staple London architecture but most importantly, it is home to the British Royal Family. Buckingham Palace was most certainly a sight to see, and although I wanted to blend in with the regulars of London, how could I not miss a chance to see where the Royal Family lives, a place of so much history. While in Euston, my sister and I made our way to an Italian restaurant for lunch where I ate penne pasta and red sauce. As a girl from New Jersey, I am very critical of Italian food, but this restaurant passed the test. Their portions in London are smaller than ours, but the food was definitely worth it.
All in all, I know for a fact that I have to make my way back to London at some point in my life. Though I am currently suffering from the usual post-trip depression, I cannot help but look back at the memories that I made with my best friend, my sister. I never knew if I ever would be able to travel and see the places that I did, and now that I have, I am more confident in checking off bucket list items that I thought would remain untouched. I can conclude that London is one of my new favorite cities and that I will be back, as I left a part of my heart there.
Please share our stories:
Leave a Comment