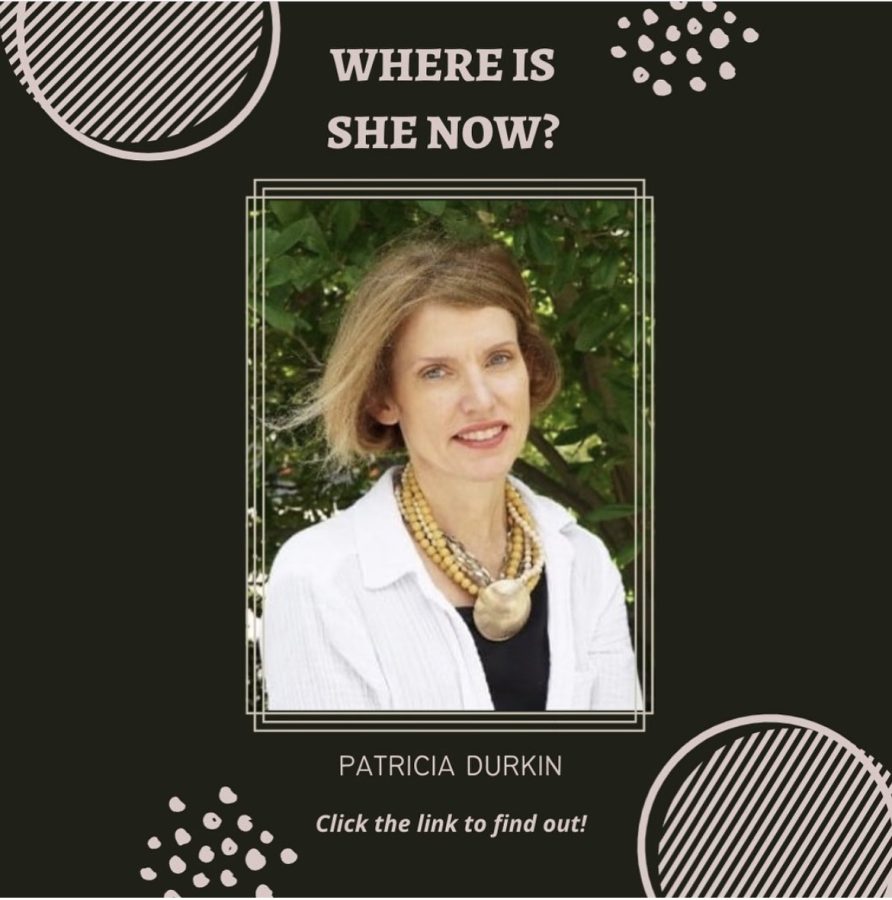 As our zoom call finally connected, I was greeted by the friendly face and excited voice of Tish Durkin. Sitting in her colorful dining room at home, we started conversing with ease. A brilliant mom of two with a deep passion for writing, she informed me of her recent pursuit of playwriting. However, her relationship with writing has always run deep, and she began to tell me about her affinities for many types of writing genres.
Tish knew from a young age that writing was her calling. Knowing she wanted to be an "adventurous writer," Tish jump-started her career as soon as she graduated from Yale University. Instead of settling for a job at a magazine publishing company, Tish told me she would often "read or see on the news that something's about to heat up [in] some interesting place, and would just get on a plane and go there." Tish wrote article after article about each of the places she visited, including Syria, China, Iraq, and South Africa. Tish attended Nelson Mandela's inauguration, remembering the trip to be an "unbelievable" and incredibly eye-opening experience. Tish also valued and emphasized the importance of personally knowing/experiencing a person or place before writing an article about said topic. "If you don't show up, you're just never going to understand. Also, that's the fun part!" Tish quickly developed her own unique writing style through witnessing the struggles of third-world countries and creating connections with people who suffered an endless amount of pain. "[I] didn't have to come up with anything to make [my articles] dramatic." She quickly developed strategies to captivate her audience without "over-inserting" herself or her point of view. Eventually, Durkin's ambitious start to her career paid off. She began receiving official assignments from well-known publishing companies, such as The Atlantic and continued to travel and share her experiences with her audience for many years.
Tish owes much of her passion for writing and exploration to her experience at the Mount. Graduating in 1984, Tish took full advantage of the four formative years she spent at the school. She was challenged by her teachers, fondly remembering their selflessness to help expand her horizons as one of her favorite Mount memories. An active participant in her favorite classes, French and History, Tish later decided to major in history when she went to Yale, claiming, "[history] is in what you write, what you see, what you read, how you perceive the madness that's going on around us now." But it was during her high school career that Tish focused on developing a variety of new writing skills, going on to win a writing contest and direct a play while at the Mount. "That was one of my misdirections away from [journalism]. I always wanted to be a journalist, and then I tried my hand at playwriting, and that went well. So…I think it was a good age to not be sure exactly what I was going to do."
As Tish and I continued to talk, we began to speak about life as a Mountie, college, and plans for the future. Curious, I asked Tish if she had any advice to give current Mount students. Pondering this question thoughtfully, Tish left me with parting words of wisdom, saying, "if you spend less time thinking about 'what am I going to get out of something,' than 'what do I think I can give and what do I want to give?' you will do much better in all ways." She continued, telling me it was so important to find out "how can [you] serve other people in a way that also serves [you] right. That nourishes [you],' Those things should all go together. Find what gifts nourish you and nourish the world at the same time."
Time flew by, and before I knew it, we were saying our goodbyes. It was an honor to be able to talk to such an inspiring alumna and find out how her time at the Mount played such an integral part in her discovery of the love she has for writing.