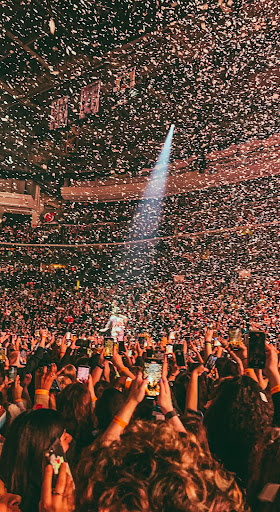 Billie Eilish grew up in the Highland Park neighborhood in Los Angeles, California. Eilish was surrounded by music throughout her childhood. Her parents Patrick O'Connell and Maggie Baird were entertainers in the music and Hollywood industry. Patrick is a well-known actor, starring in famous movies such as Iron Man, Supergirl, and The West Wing. Maggie is a talented actress, singer, and songwriter, appearing in shows such as Bones, The X-Files, and Six Feet Under. Billie grew up alongside her brother Finneas, her best friend and role model. Maggie taught Billie and Finneas how to write their own music at a young age. The hit song, "Ocean Eyes," was the first song the siblings wrote together. Music was not the only activity Billie loved. Eilish fell in love with dancing. In her early teens, she devoted her time to dancing, but countless injuries prevented her from pursuing a career in dance. Finneas and Billie's dance teacher both saw how devastated Billie was after ending her short career in dance, so they came up with a plan to try and help her. Billie's dance instructor asked Billie if she could create a song that they could choreograph a dance for together. A creative Finneas worked with Billie to craft a new song. When Billie was only 14, she uploaded her first song, "Ocean Eyes," onto SoundCloud. The song went viral overnight, revolutionizing the music industry forever. Billie's career took off, and three years later, she released her first album titled When We All Fall Asleep, Where Do We Go? with her renowned song "Bad Guy" hitting number 1 on the Billboard 100 for over nine weeks. 
Two years ago in 2020, Billie Eilish's World Tour Where Do We Go? was canceled after only 3 shows due to Covid-19. Billie had planned to do a total of 54 concerts across South America, Europe, Asia, and North America. Her tour started on March 9th, in Miami, Florida, and was canceled on March 12th in Raleigh, North Carolina. Billie Eilish's rescheduled world tour, Happier Than Ever, is her sixth concert tour, with over 50 concerts planned in Europe and North America. Her set list consists of 28 songs with my favorite songs, "Happier Than Ever," "Ocean Eyes," "Lovely," "Bellyache," and much more.
Billie Eilish wanted Happier Than Ever to be a timeless album. She gathered ideas from artists she grew up listening to, like Julie London, Frank Sinatra, and Peggy Lee. Billie stated, "the songs in the album are […] very versatile and different from one another, but they are also very cohesive." Billie explains that she creates new songs in hopes that those who listen to them get a sense of relief if they relate to the song, and know they are not alone. Personally, that is why I like her song "Happier Than Ever," as I can relate to how Billie is feeling. Sometimes, it is hard to put feelings and emotions into words, but listening to her songs reassures me that people around me feel what I am feeling. Billie explains to her fans that "there was much self-reflection [which] I think really comes through the songs. Reflection on myself and things that I've experienced or witnessed." Billie Eilish is a massively important influencer because her biggest goal is to make sure that no one ever feels alone.
My sister and I have loved Billie Eilish since "Ocean Eyes" came out in 2016. I was in 6th grade and my sister was in 3rd grade. My sister and I played the song on repeat in the car, and my parents, well, they had to get used to it! 
On Friday, May 28th, 2021, my sister and I sat in front of the computer waiting for the presale tickets to become available. We were already behind 350 other people when the sale opened! My sister and I were terrified we were not going to get pit tickets, our biggest goal. Right when the screen showed us available seats, there were only 4 tickets left in the pit. I grabbed the mouse, clicked on the seats as fast as I could, and we got the last tickets. For a year, I looked forward to seeing Billie Eilish. I played her setlist over and over in the car and on the bus to camp so I memorized them before the concert. During the days leading up to the concert, I could not hold in my excitement. When the day came to see Billie, I could not stop smiling the entire day. 
Tuesday, February 22, 2022, was the best day of my life. My friend Lilly and I went to the concert together, along with my sister Maddy and her friend Ava. We arrived at the Prudential Center in the pouring rain and waited anxiously in line for an hour. During this time, Lilly and I befriended the people in front of us who were fellow fans themselves. We hung out with John, Naomi, Fernando, Gabi, Casey, and Liz throughout the whole concert. Once we were finally inside, we ran as fast as we could to the front of the stage. Musician Dora Jar was already on stage performing. Over the course of 45 minutes, my new friends, Lilly, Maddy, Ava, and I all pushed our way to get closer to the front of the stage. Once the clock hit 8, Gabi and I started chanting, "Billie! Billie! Billie!" and the whole stadium chimed in. Suddenly, the lights went out and the stadium was pitch black. My heart was racing. In a few seconds, I was actually going to see Billie Eilish! Billie's song "Oxytocin" started to play as smoke poured out into the middle of the stage. White lights started flashing, and all I could hear was the roaring of the crowd. Pink lights went up, and Billie jumped into the middle of the stage. The stadium filled with excited screams, and all of my friends and I were jumping up and down with joy, screaming at the top of our lungs. The lights turned red, and Billie opened up with the song, "Bury A Friend," to which everyone sang along. The energy from the crowd was unmatched. Billie acknowledged that this crowd was by far the loudest she had ever performed in front of. The crowd roared with excitement all night long, singing and dancing to "You Should See Me in a Crown," "Therefore I Am," "My Strange Addiction," and more. 
The visuals on the three screens behind Billie were excellent. During "You Should See Me In A Crown," a giant, realistic tarantula crawled across the screen. During "Getting Older," videos of Billie and Finneas growing up together were projected onto the screen. During Billie's song "No Time to Die" animations of statues were shown from under the sea. The most moving visuals were played during the song "All The Good Girls Go to Hell." During this song, a visual montage of our earth and the effects of global warming played across the screen. In the end, Billie told her audience that putting the montage together made her cry as it was heartbreaking to look at. Billie put the video in because she knows how important it is to be aware of what is going on in our world. The audience roared with love and appreciation for Billie after bringing up such an important issue. 
As Billie ended "Male Fantasy," the blue lights faded away and the center went pitch black. The crowd waited eagerly to find out what the next song would be, but the lights did not go back up for almost a minute, worrying fans. Then, red lights zeroed in on something in the back of the arena. Billie was on top of a massive crane soaring above the audience. Billie performed five songs as the crane moved, including "Not My Responsibility," "OverHeated," "Bellyache," "Ocean Eyes," and "Bored." When Billie wrapped up "Bored," I felt a push from my right and was squished all the way to the right of the pit. Everyone was pushing to get to where I was standing, and I found myself confused. But then, out of the corner of my eye, I saw Billie Eilish running down the alleyway, giving high fives to people on the borders. I reached my hand so far out, hoping that she would touch it. She just missed my hand and only touched my fingertips. Even though she only touched my fingertips, I still tell people I high-fived Billie Eilish because it is a cooler story that way!
As Billie played her second to last song, "Bad Guy," we all heard a pop from up above. All you could see were thousands of white confetti streamers falling from the sky. The moment was magical. It was unbelievable. Billie played her final song, "Happier Than Ever," and I couldn't help but cry. Billie Eilish's music helped me get through so many good and bad times throughout my life. I did not want the best night of my life to end, but when the second verse of "Happier Than Ever" started, everything was simply perfect. I was jumping up and down. The lights were flashing everywhere. Smoke was curling onto the stage. When the song came to an end and Billie waved goodbye, I could feel the tears flowing, but a smile stretched across my face. I was so grateful I got the chance to see Billie Eilish, my role model in life and the person who helped me the most. Billie Eilish will always hold a very special place in my heart. She has changed my life and is the reason I am the person I am today. 
"Happier Than Ever" World Tour Setlist
"Bury a Friend"
"I Didn't Change My Number"
"NDA"
"Therefore I Am"
"My Strange Addiction"
"I Don't Wanna Be You Anymore"
"Lovely"
"You Should See Me in a Crown"
"Billie Bossa Nova"
"Goldwing"
"Halley's Comet"
"Oxytocin"/"Copycat"
"Ilomilo"
"Your Power"
"Male Fantasy"
"Not My Responsibility"/"Overheated"
"Bellyache"
"Ocean Eyes"
"Bored"
"Getting Older"
"Lost Cause"
"When the Party's Over"
"All the Good Girls Go to Hell"
"Everything I Wanted"
"Bad Guy"
"Happier Than Ever"